Written by Dustin Christensen, Club Reporter for Prairie Winds 4-H Club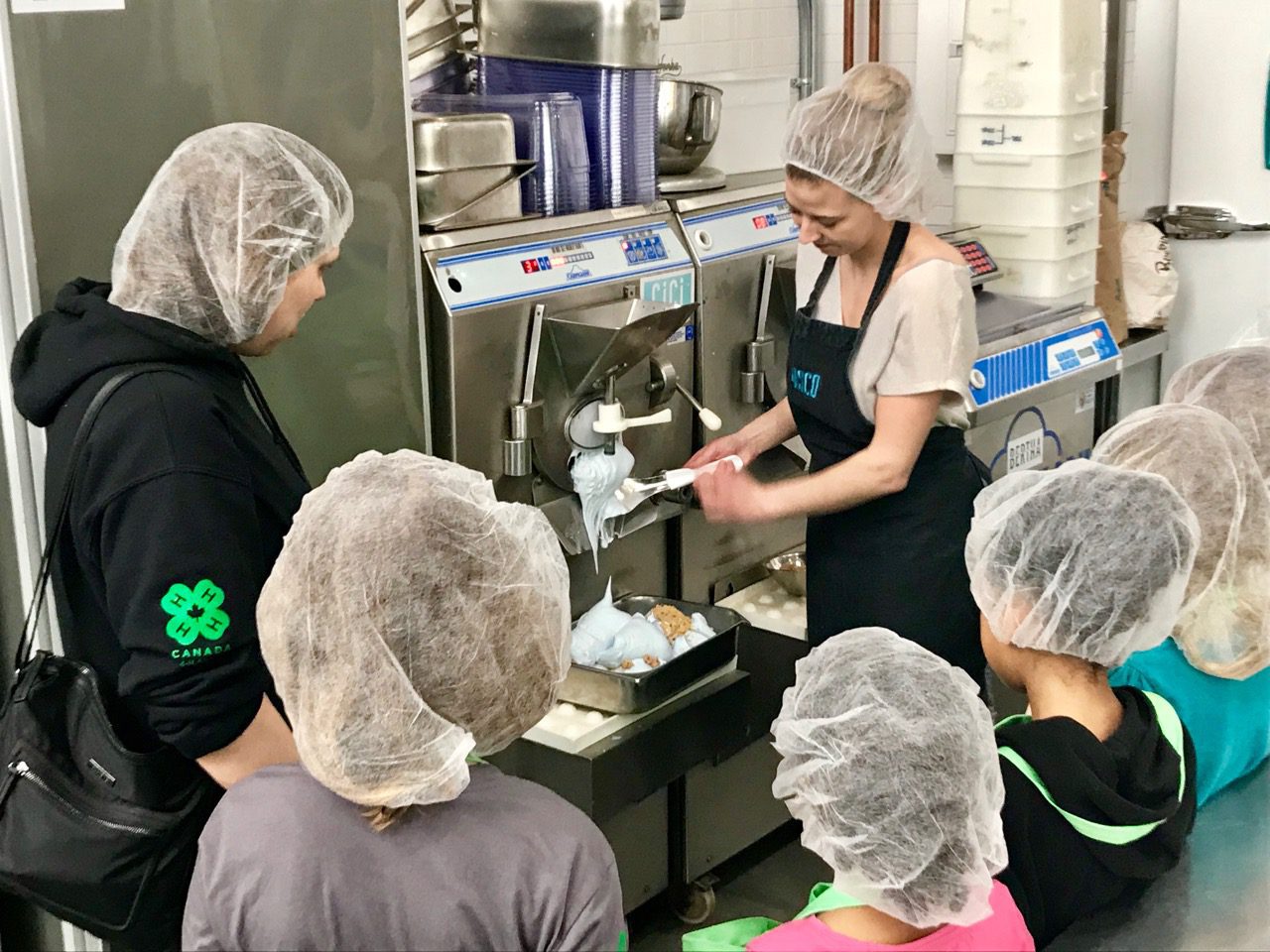 In early April, the Prairie Winds 4-H Club members visited Fiasco Gelato where they learned about the gelato making process.
After everyone arrived, members watched a video about Fiasco Gelato. It showed that Fiasco Gelato has faced many challenges over the years like fires and floods, but Fiasco Gelato has persevered through it all and are still going strong in 2019.
Before making gelato, members washed their hands and put on a hairnet to prevent food contamination. To make the gelato, members poured the liquid gelato and flavour ingredients into a bucket where it was mixed. Then they poured the mixture into a special machine. After about five minutes, a door was opened on the machine and the gelato oozed out into a stainless-steel container and toppings were added. Members made 3 flavours of gelato: Wunderkid, Carrot Cake Cheesecake and Lavender Vanilla Bean. After each flavour was made, the gelato either went into the display case or was stored in the flash freezer named Elsa. All of Fiasco Gelato's machines have names like Tyler, Enzo or Cici.
When the 4-H members were all done making the gelato, the machine was cleaned with water and dish soap while certain parts were removed and put in a special dishwasher. When they were done, they got samples of different flavours.
Fun Facts: Gelato is less fatty, less sugary, and denser than ice cream, so it stays cool longer. Gelato is also thicker and maltier than ice cream.
Fiasco Gelato's slogan is: "Quality means doing it right when nobody's looking."
The members of Prairie Winds 4-H Club learned many things that day, but most importantly they learned that "You can't buy happiness, but you can buy gelato."
---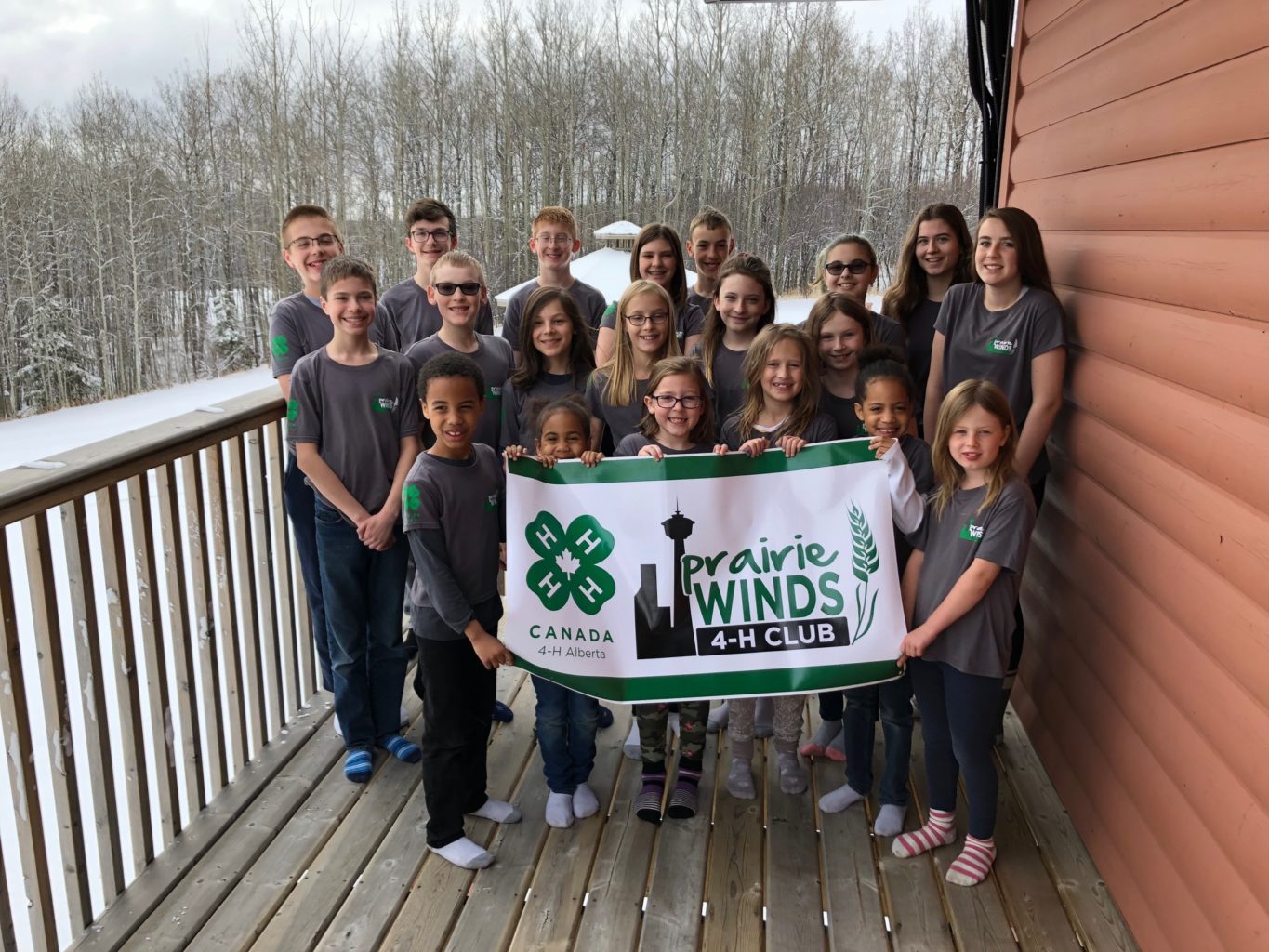 In early May, The Prairie Winds 4-H Club members stayed at the Battle Lake 4-H Centre in central Alberta and helped prepare it for summer campers.
It was an easy drive Friday night to the Battle Lake 4-H Center, located West of Wetaskiwin, where members and their families gathered to help with the grounds clean up. Saturday got off to a slow start due to a layer of snow that covered the ground; nonetheless, the 4-Her's persevered. They donned their rubber boots, winter jackets and gloves and headed out to work. The group of 52 was able to perform a variety of tasks. The indoor cleaning crew washed the walls & windows in the dorms and main lodge; the painting group worked inside a shop to complete bench & table painting, and the outdoor team undertook branch clearing, and garbage pickup at the edge of the lake and on some of the seven km of pathways. Not only did the 4-H'ers and their families clean-up the camp but they also had made time for fun after a hard days work. Favourites included fun with various sports equipment, gaga ball, flashlight hide-and-seek, and smores by the firepit.
On that eventful weekend, the members of Prairie Winds 4-H club not only performed a good deed and had tons of fun doing it!
UPCOMING: The Prairie Winds 4-H Club will be holding their annual Achievement Day at the Granary Road Market on Saturday, June 15th. The members will have display tables for viewing and the 4-H mascot wil be in attendance at the market between 9:30am – 12 noon. Anyone interested in finding out more about the club is welcome to stop by. For further details please email prairiewinds4h@gmail.com