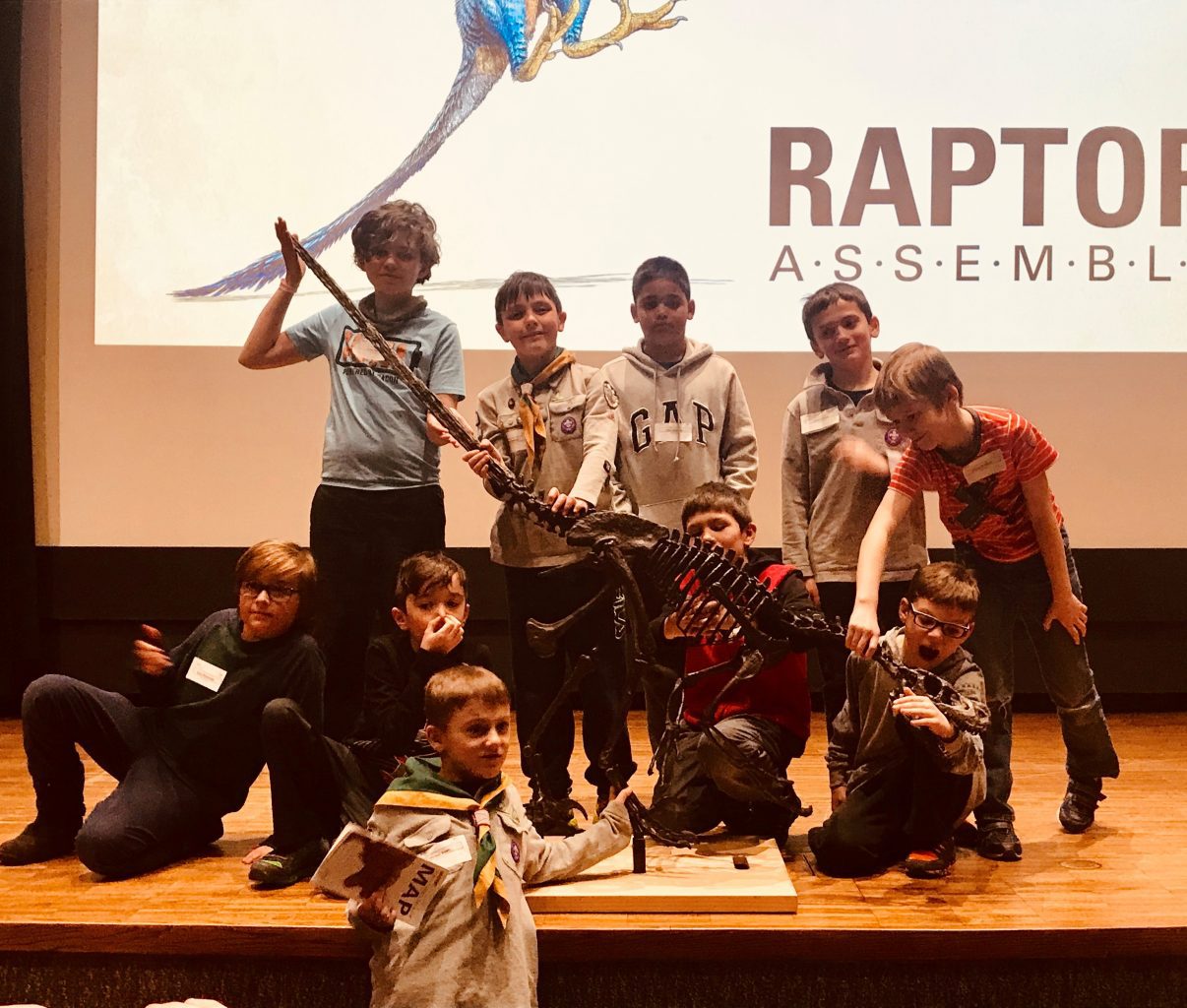 I had a wonderful experience with the Cubs' sleepover at the Tyrell Museum recently I would like to tell you about. The drive out was beautiful and sunny and there was still some snow on the ground making it especially beautiful driving into the Drumheller Valley. After arriving at the Museum and being greeted by the staff, the kids got their beds ready for the evening. Our Group was one of several that would spend the night sleeping with the dinosaurs. Our Group, 401 Woodcreek, received the best spot of all sleeping around the triceratops and tyrannosaurus rex display. The kids worked hard setting up their beds and finding their little group to bunk down with for the night.
After set-up, the museum had us meet to go over safety rules and we broke off into 4 groups. Each group rotated among 4 stations. Our first station was 'Raptors'. Here we watched a video on raptors, and we helped to construct a large life-sized model of one. We learned a lot about their life and behaviour. Did you know raptors had feathers?
Our next station was Cretatous Alberta, where we sat in an epic room surrounded by a forest and life-sized models of how Alberta must have looked many million years ago. We were taught many great facts and were able to handle real fossils, even dinosaur poop!
Next, we went to one of the classrooms where we were taught how to meticulously remove fossils from the earth using dental picks and awl and some brushes. I think the most important fact we learned here was how incredibly difficult and time-consuming it is to unearth these old bones.
At our last station we had a chance to paint some cast of bones of our own to take home. It was interesting to see how casts were made and to have an opportunity to get creative.
After all the stations were completed, we enjoyed a wonderful bedtime snack of banana bread and fresh fruit before heading back to our sleeping area. The kids got ready for bed and enjoyed a little bit of visiting and talking about the great day they had. Miraculously, they all settled down at a fairly reasonable time, and I lay there going through in my mind what a great day we had. It was so amazing to look around and see all the life-sized dinosaur models around us in the dim light and to imagine what it would have been like to live millions of years ago among these huge creatures.
What was truly amazing is that most everyone slept till the morning wake up time of 7:30 a.m. We quickly packed our things and took them out to our vehicles in record time before we sat down to a wonderful breakfast of bacon, pancakes, cereal, fresh fruit salad and of course coffee, tea and juice.
The weekend concluded with a few episodes of 'Walking with the Dinosaurs' available on Netflix that I highly recommend. The gift shop was opened just for us before any general public arrived and then we were able to stay for the day to enjoy the museum on our own time with our families. I highly recommend the Tyrell Museum for their excellent programs.
Please feel free to contact our Group commissioner Tim Tratch at 403-251-4878 to learn how you can enroll your child in our programs. As you can see, we have a very active group that has lots of fun and the kids make tons of amazing memories that we hope they will share with their children one day.
Thank you, Woodcreek Community Centre and Lions Club, for supporting us so we can continue our fine Programs.