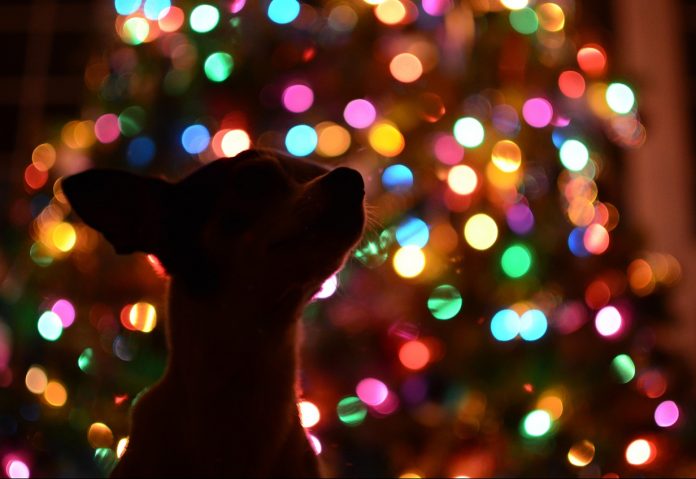 It is hard to believe it is already December and another year is coming to a close. At Calgary Humane Society, we wanted to take a moment to wish all of you a safe, happy and healthy holiday season and say THANK YOU for another amazing year. Thanks to the generosity of our incredible Calgary community thousands of animals are enjoying their first holiday in their new forever home.
For those of you with animals in your life, here are some tips to ensure your holiday season is safe and happy for both two-legged and four-legged family members!
Choose pet-friendly decorations! When choosing decorations, look for plastic or non-breakable items. Keep small items, tinsel and long strings far out of reach of pets as these items are choking hazards. Some holiday plants (mistletoe, poinsettias) can be toxic if eaten so fake foliage could be a better option if your pet likes to chew on the plants.
Create a festive treat plan for friends and family. During the holiday season many friends and family will want to share a special treat with your pet. Planning in advance to have "approved" pet treats available, or putting aside a small amount of the human food your pet is allowed to eat (turkey, sweet potato etc.) for guests to give your pet is a great way to prevent overfeeding during the holiday season.
Include your pet in on holiday memory making! With the winter holidays in full swing the winter season is a perfect time to make memories with your pet. Creating fun paw-print ornaments or setting up a festive photoshoot in your living room is a fun way to include your pet in the holiday season.
Head out to see the lights! If a mild night is in the forecast, consider bundling up the family and taking Fido for a walk to see the Christmas lights in your neighbourhood. Don't forget paw protectors and a jacket for your pet if they need one!
Add some pet-friendly snacks to your holiday baking routine. If you love making cookies to share during the holidays, consider adding a pet treat recipe to your baking plans. Pet treats are a great starter recipe for kids to make (most are easy to make and fun to customize with pet-friendly flavours, like cheese or apple) and a fun way to make sure all of the special animals in your life are included in the holiday celebrations.
Looking for more ways to celebrate the holiday season with four-legged friends? Come down to the shelter and check out our Christmas Party for the Animals! We will have plenty of fun activities. For more information on holiday safety or DIY gift ideas for your favorite pet, follow us on Facebook and visit www.calgaryhumane.ca.
From all of us at Calgary Humane Society, Happy Holidays!