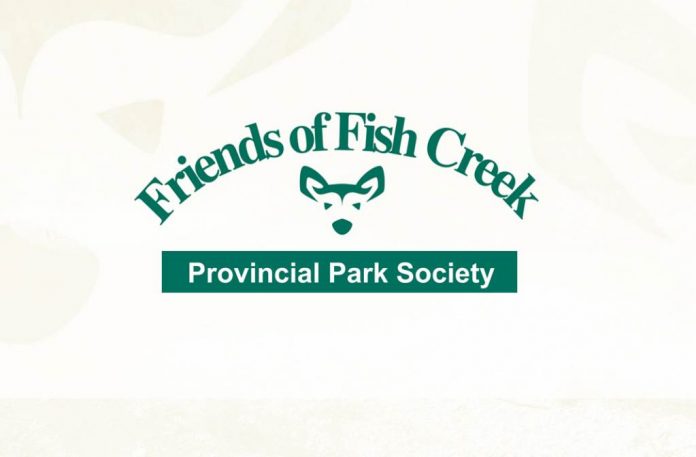 Do You Love Fish Creek Provincial Park?
As you know, Fish Creek Provincial Park is an essential resource for the community that provides countless opportunities for people to celebrate nature and to enjoy much-needed time to unwind. In recent months, perhaps you have had a chance to explore an unfamiliar area of the park or taken advantage of the many kilometres of paved pathways that run through the park. Fish Creek Provincial Park is here for your enjoyment and is the perfect place to relax, unwind, and appreciate nature within the city, all of which has immense benefits for both physical and mental well-being. The Friends Fish Creek are committed to the sustainability of this park and work to ensure that future generations can enjoy it as much as we do today. As a member of the Fish Creek Community, we invite you to show your love for this park this autumn through the Friends' I Love Fish Creek Program, featuring a variety of ways to support the Friends and our conservation efforts in Fish Creek Provincial Park. For more information, please visit www.friendsoffishcreek.org
The November Fish Creek Speaker Series
Once They Were Hats: A Brief History of a Radical Rodent
Thursday, November 19, 7:00 pm to 8:00 pm, online
Presented by Frances Backhouse, Award-Winning Journalist and Author
There is a lot of history behind our present-day dealings with Castor canadensis. The beaver conflicts that we are working to manage today are in many ways a legacy of the colonial fur trade. The beaver benefits that we are still learning about are rooted in millennia of beaver presence on this continent. This brief history of beavers will begin with their debut 37 million years ago, fast forward through the rise and fall of the dozens of early species, and then zero in on what's happened to North American beavers since Europeans showed up 500 years ago. As our relationship with beavers continues to evolve, a historical perspective can help inform the future. Registration Required. To register visit https://friendsoffishcreek.org/event/beavers-3
Fish Creek Community Terrace
If you have been down to the park in recent years, you may have seen the personalized bricks along the pathway in front of the Cookhouse at the Bow Valley Ranch. Close to 300 people have dedicated a brick in support of Fish Creek Provincial Park since 2017. The Friends have begun offering bricks in the next phase of this program – the Fish Creek Community Terrace, which will be built in front of the Cookhouse at the Bow Valley Ranch. This is a great opportunity to leave a legacy in the park and to show your support for the work the Friends do. If you have a small business, please consider this opportunity to promote your business through dedicating a brick. Bricks are only $250.00 and you will receive a tax receipt. To dedicate a brick please visit https://friendsoffishcreek.org/brick
Membership Shows You Care
The Friends of Fish Creek invite you to renew your commitment to Fish Creek Provincial Park for the 2020 – 2021 season. Members receive admission to Fish Creek Speaker Series presentations, a discount on the popular Birding Course, discounts at select local businesses, and regular updates on programs and events in Fish Creek Provincial Park. As our community was presented with significant challenges starting last spring, the Friends were able to adapt to the situation because of the support from volunteers, donors, partners, funders, and members. We have begun using a new online system that has made renewing your membership and donating easier than ever before! To renew please visit https://friendsoffishcreek.org/membership, call 403-238-3841 ex. 1, or mail in a cheque to the Friends of Fish Creek (ATTN: Membership). As an alternative to annual membership renewals, you may be interested in the Park Protector program. This monthly donor program may suit your busy lifestyle, as a fixed contribution will be effortlessly and automatically withdrawn from a credit card and there is no need for annual renewals. Park Protectors receive monthly updates on how their donation is making a difference and a valuable annual tax receipt.