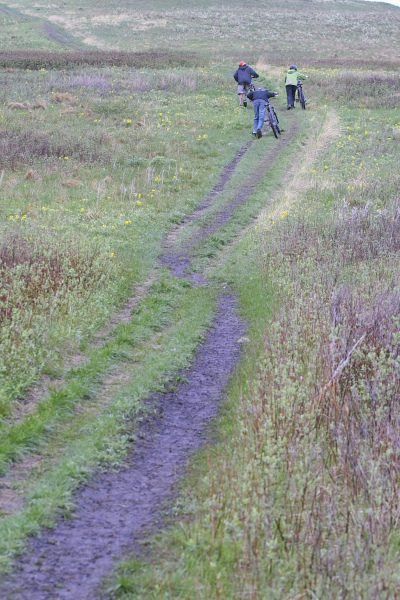 The goals of the 2005 City Council-approved Nose Hill Trail and Pathway Plan were to perpetuate the natural character of the landscape, while affording compatible recreational opportunities. The report cited multi-track trails overgrown with weeds, rutted, and braided trails. Steep trails were causing erosion of the slope. Old gravel trails/roads were eroded and not maintained.
A system of upgraded trails and paved pathways was constructed to manage public use patterns. Off-leash dogs outside of the multi-use zone. Snow fences for closed trails moved or vandalized. Users ignoring snow fences and continually using closed trails. The report recommended interpretive and/or orientation signs for observed dog-bylaw compliance. It also predicted day parking lot use, since the Park is closed overnight. Aerial photos showed flat terrain and grasses on the upper plateau, native grassland, and other native vegetation at the top of the escarpment.
There were 15 recommendations, with a summary of park use and routes, park amenities, and parking lot upgrades. The balance between the protection of the natural environment, while providing leisure opportunities, has proved to be challenging. Nose Hill has historical, archaeological, and other resources of natural interest, such as, wildlife species and habitat features. Habitat for rare, threatened, and endangered wildlife is significant and sensitive to general park use by dog walkers, cyclists, pedestrians, and other visitors.
Nose Hill Park is a unique urban park only five kilometres from the city centre, and a walk from neighbouring communities. An "ecological island", it is a large area of grassland bordered by John Laurie Blvd. along the south, Shaganappi Trail along the west, and 14th St. N.W. along the east. The Park contains some of the largest reserves of native fescue grasslands in Calgary.
Read more at www.calgary.ca/csps/parks/construction/nose-hill-park-trail-and-pathway-improvement-plan.html.