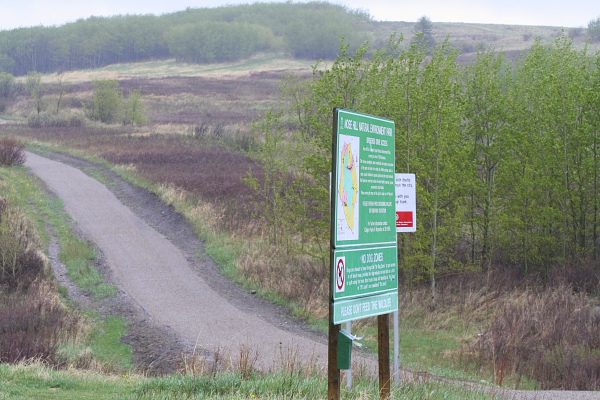 by Anne Burke
The City maintains 984 kilometers of regional pathways and 96 kilometers of trails. In the late 1960s, Calgarians thought of a system of connected pathways to enjoy the visual amenities and access areas of unique natural beauty. The first completed section of a pathway was in the early 1970s. Nose Hill Park has both pathways (to protect the vegetation) and trails. Please use both wisely.
A regional pathway is part of the city-wide network and is usually paved with asphalt.
A local pathway provides routes in communities, linking residential areas to neighbourhood parks, schools and other community destinations.
Trails are unpaved paths usually made of grainy or compacted dirt.
Work on pathways deals with missing links, lifecycle repairs, and safety improvements. The City will update existing (and build new) pathways and bikeways. Pathways are off-street and bikeways are on-street. The 2001 Calgary Pathway and Bikeway Plan is being updated, since many proposals in the original plan were built, while others are obsolete, due to changes in roads and development. The needs of users and City policies have changed over time. The aims are to separate people by speed, improve visibility, and make routes more reliable, easier to use, and accessible.
The vision is to help us walk, run, ride, and use mobility devices, whether for social, recreational or commercial activities, to connect with public transit and parking. City Council approved guiding principles for the "5A" network for walking and wheeling infrastructure. For now, City staff will work with approved capital budgets. Future capital investment and more budget requests will be needed to build out the network over time.
For next steps, go to: https://engage.calgary.ca/pathwaybikeway.