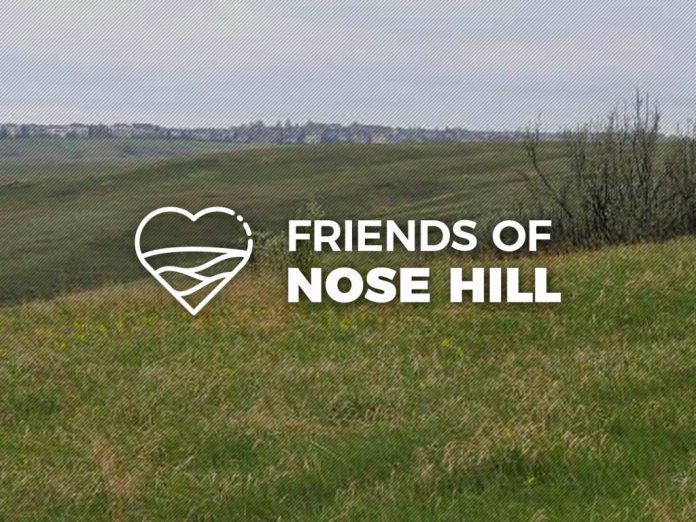 In 1984, the "Save the Nose Hill Archives" was deposited at the Glenbow Museum by the Secretary/Archivist of the Nose Hill Park Communities Board. The collection consists of materials including bylaws and regulations, minutes of meetings of various interest groups, correspondence, legal, and financial records; historical outlines, newspaper clippings, a videotape, scrapbooks and photos; library material including maps, publications and city design briefs, as well as an "I'm for Nose Hill Park" t-shirt.
The Board made recommendations for the Nose Hill Park Master Plan Review. Thorough environmental impact studies are required before making major decisions or changing the resource management plan. Visual impact to be minimized. User wants must not overpower natural environmental principles. No general municipal uses allowed except those directly relating to Nose Hill Park and its objectives. This policy should be clearly stated by City Council and exceptions, if any, made by Council.
Archaeology is an immediate resource. Emphasis on preservation and natural resource values, not development and recreation. Do not install water, fire pits, shelters, or playgrounds. Fences and gates a high priority to prevent night-time access beyond the parking lots near the edge. Access for handicapped individuals to gravel pit area with links to paved paths. Wildlife recognized as an essential component of resources and, for conservation, the Board endorsed the concept of a wildlife corridor in a northern direction (with the city-wide bike path). Restrict maintenance vehicle access. Integrate any emergency access with the pathway system. The impact of planned bicycle paths will be too great and these should be "scaled down". Dogs are on-leash in the park except for some areas identified in the Master Plan, where dogs would be allowed to run off-leash (under their owners' control).