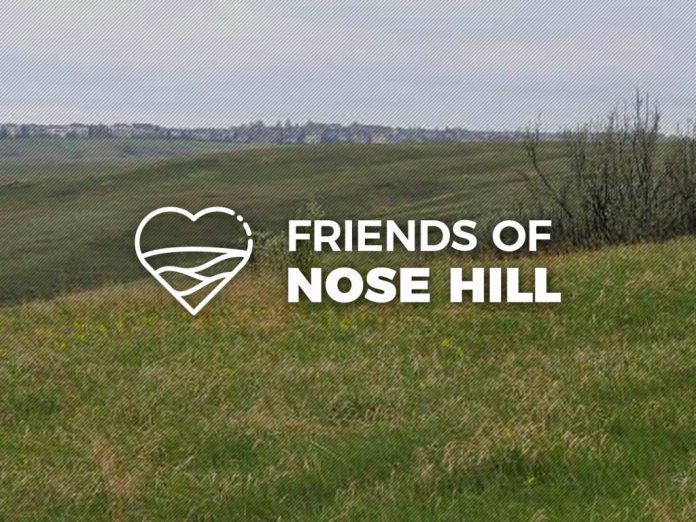 The Steering Committee for the Nose Hill Master Plan Review was a group of volunteers who invested substantial personal time and effort. They discussed, listened, debated, convinced, and compromised on a wide range of issues which were part of the Plan and the preservation of Nose Hill Park. They believed in the long-term future of the Park as an invaluable resource for all residents of Calgary. However, to ensure their legacy, it depends on the continued strong interest of citizens, like those who participated on the Committee.
Habitat restoration uses native vegetation such as vetch, blue flax, and a variety of grasses. Planting of native shrubs and seeding (wildflowers and grasses) reduces maintenance costs to help support plants, animals, and insects. This increases the beauty, diversity, and access to nature. Restoration takes time. A project can take 3+ years and more to reach the full benefits of the restored area. Please obey any temporary closures, fencing, and signs while the work is done to improve our wild areas. As a key biodiversity target, Calgary aims to restore 20% of open space by 2025. Native plants were added along the banks of Nose Creek, with invasive plants removed and controlled. Mowing was stopped in some areas so woody plants grow as a natural buffer to prevent erosion and help improve Creek health.
The Nature Conservancy of Canada (NCC) protects and cares for our country's most vulnerable natural areas and the species they sustain. It is the only national organization dedicated to preserving Canadian biodiversity through the conservation of land. By donations and conservation agreements, the Canada's Ecological Gifts Program provides a way for Canadians with ecologically sensitive land to protect nature and leave a legacy for the future.