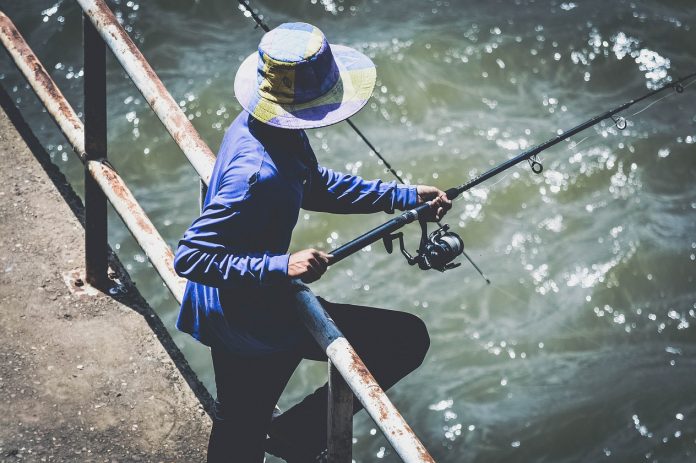 Yes, fish can whirl but it is not a treat-worthy trick as it might be if your dog is a proficient whirler.
Whirling disease is a disease that affects trout including brook, bull, brown, cutthroat and rainbow trout as well as mountain whitefish and salmon. It is caused by a microscopic parasite called Myxobolus cerebralis. This parasite requires two hosts to complete its life cycle and become a threat: a healthy trout or mountain whitefish and a Tubifex worm which is found in the sediment of water bodies
Here's how it works. The parasite hitches a ride on birds, bears, wading boots, boats, and fishing equipment from one body of water to another. It is then ingested by the bottom-dwelling Tubifex worm. Within the worm the parasite transforms into an alternate form called Triactinomyon (TAM). The TAMS are then released by the worm into water, thereafter, finding juicy young trout in which to burrow. Once inside the fish the TAMs attack the cartilage near the spine that can result in a blackened tail, spinal deformities, a loped nose and/or a whirling swimming pattern.
Where is the disease? Whirling disease in Alberta was first confirmed in August 2016 at Johnston Lake in Banff National Park. Since then whirling disease has been confirmed in the Oldman and Bow River Watershed including the Lower Elbow River in Calgary, November 2016. In the United States whirling disease was first observed in the 1950s in the northeastern states. Since the 1990s the disease has spread to the western states including Montana.
Fish concerns. The concerns are high for the healthy sustainability of Alberta's world-class fishery including the "threatened" Westslope Cutthroat trout. In some fish populations mortality rates have been as high as 90%. Poor spawning habitat and species susceptibility play a role in mortality rates.
Human health concerns. According to Alberta Environment and Parks there are no health concerns for people recreating or drinking whirling disease infected waters. Eating infected fish is not known to cause harm to humans or other animals.
Is there a cure for whirling disease? There is no cure or treatment for whirling disease currently. The best that we all can do is containment and prevention. This means clean, drain and dry all water-contacted equipment, in situ, before moving to another water body. Never move live or dead fish or fish parts between water bodies.
For more information go to: http://aep.alberta.ca/fish-wildlife/wildlife-diseases/whirling-disease/default.aspx or call 1-855-336-BOAT (2628).