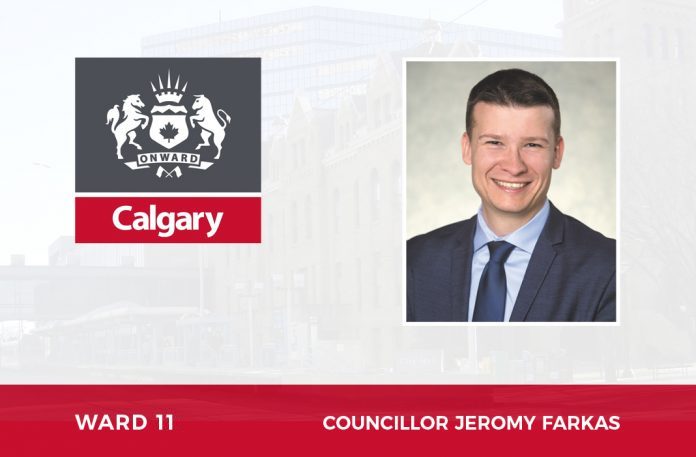 Councillor Farkas, Jeromy
Dear friends,
As we buckle down for, what are typically our two coldest months of the year, February, and March, it is a good time to be mindful that icy streets and heavy snowfall may pose additional challenges for our elderly neighbours and those with mobility challenges.
If you have the ability to shovel a neighbour's driveway or sidewalk, this small gesture will no doubt go a long way for someone who is unable to do so themselves. I say it all the time – Calgarians never cease to amaze me with their spirit and generosity, and this holds true for our many snow angels. Please reach out to us if you know of a snow angel who deserves to be recognized.
With colder temperatures, Calgary Police Service (CPS) tends to see a spike in vehicle theft. Each fall the CPS fires up their Operation Cold Start campaign. This public education initiative cautions Calgarians from leaving unlocked vehicles running. More than half of all winter vehicle thefts are a result of keys left in the ignition with doors unlocked.
Tied in with Operation Cold Start is the 9 p.m. routine. This includes, ensuring no valuables are left in your vehicle and that it's locked, closing garage doors, locking house doors and windows, and keeping an exterior light on.
As we have learned to live a quieter existence over the last year, working our way through this pandemic, I want to see how you have kept yourself active through the winter months. Have you taken advantage of our pristine parks, or some of the newer amenities like the ski track at North Glenmore Park or the skating track at Bowness Park? Hiking in the mountains? A family game of hockey? Feel free to share these images with me through social media.
As always, reach out to me anytime is there is something I can help you with at [email protected].
Respectfully Yours,
Jeromy Farkas
Palliser resident and Ward 11 Councillor
Ward 11 – Councillor Jeromy Farkas proudly serves the following Communities: Acadia, Bayview, Bel-Aire , Braeside, Britannia, Cedarbrae, Chinook Park, Eagle Ridge, East Fairview Industrial, Elbow Park, Elboya, Erlton, Haysboro, Kelvin Grove, Kingsland, Lakeview, Maple Ridge, Mayfair, Meadowlark Park, Mission, North Glenmore Park, Oakridge, Palliser, Parkhill, Pumphill, Rideau Park, Roxboro, Southwood, Victoria Park, Willow Park, Windsor Park