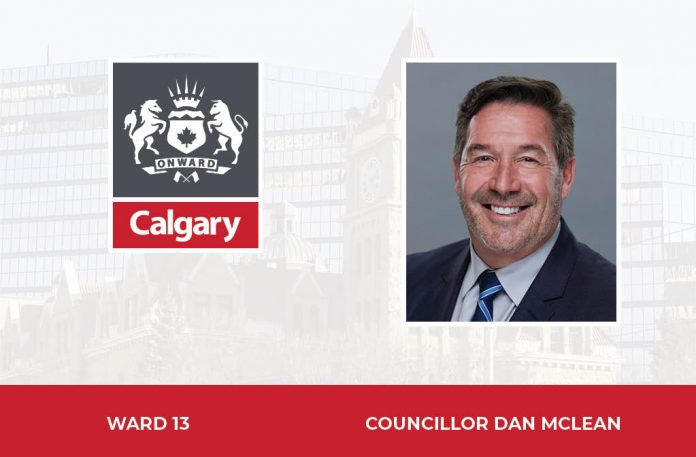 As your newly elected Ward 13 City Councillor, I would like to thank you for your support and for entrusting me to be your voice at City Hall. I have immediately begun the work as your City Councillor both at City Hall and in our community.
At City Hall, Council has been focused on the City Budget and dealing with the impacts of COVID-19. My focus has been on promoting measures to get Calgarians back to work, creating jobs, and keeping our tax burden low.
I was disappointed that one of the first items of business for the new City Council was to declare a "Climate Change Emergency". We currently have a health emergency with COVID-19. We have an economic emergency with rising inflation, high unemployment, and a downtown vacancy rate at over 30%. Of course, we need to take care of our environment, but the truth is that we are already world leaders in doing so. Alberta's oil and gas sectors are world leaders in producing energy in an environmentally sustainable and socially responsible manner, utilizing the most advanced technology. Our technology sector is rapidly expanding and that's a good thing. We need to be focused on promoting all sectors including energy, technology, manufacturing, and other areas to diversify our economy and create jobs.
In our Ward 13 community, I have been meeting with residents who have brought to my attention many issues including improvements to roads, parks, and dealing with crime in certain communities. I will be working over the coming months to resolve these issues. Please feel free to reach out to me by visiting my website at Calgary.ca/ward13 and click on "Contact Councillor".
I would like to wish all Ward 13 residents a very Merry Christmas and all the best in the New Year!
Ward 13 – Councillor Dan McLean proudly serves the following Communities: Belmont, Bridlewood, Evergreen, Evergreen Estates, Millrise, Pine Creek, Shawnessy, Silverado, Somerset, Woodbine, Woodlands, Yorkville