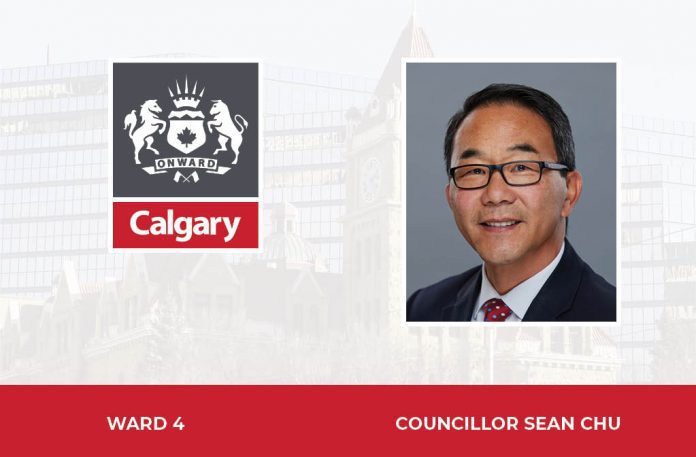 Greetings Ward 4!
Spring is finally upon us and as we transition from freezing to warmer temperatures, I want to provide the following information and tips to make sure your families, homes, and communities are protected, as well as make your everyday lives as comfortable as possible.
As some snow may continue to fall during this month, know that our snow response prioritizes routes based on daily volumes to help keep Calgarians safely moving on our city roads. Please allot enough time for your daily transportation and be mindful when sharing the roads with our snowplows and street sweepers.
As the snow clears, our street sweepers will be out in full force. Sweeping reduces water pollution by preventing the run-off of sanding materials into our storm drains, as well as reduces air pollution. How can you help? Please pay close attention to when parking bans will be in effect in your area, as well as make sure your blue, black, and green bins are clear of the streets during sweeping times. For more information on neighborhood clean-up volunteer opportunities, please reach out to the Community Association in your area.
Watering your yard can account for 30 to 40% of your annual water use. With changing weather patterns in the city, capturing water can help you and your community save money and water during times of high heat and dryness.
First, look for a sealed barrel equipped with:
• An overflow mechanism.
• An additional outlet and hose to redirect water to plants or trees from the barrel once it's full.
• A drain or tap near the bottom to fill a watering can.
Please visit the YardSmart – Rain Barrels section of the City of Calgary's website for more information on how to set up your rain barrel.
As part of your home maintenance, please don't forget to check your taps, hot waters heaters, water softeners, and toilets for leaks. Toilets are the most common cause of leaks in the home. Take the Leaky Toilet Test to find out if your toilet is leaking.
For more information and guidelines about how to repair and check for leaks, please visit the City of Calgary's 'Homeowner Water Guide' available at calgary.ca.
I hope you all had a wonderful winter, and I am looking forward to focusing on these warm spring months ahead.
Ward 4 – Councillor Sean Chu proudly serves the following Communities: Beddington Heights, Brentwood, Cambrian Heights, Charleswood, Collingwood, Dalhousie, Edgemont, Greenview, Greenview Industrial Park, Highland Park, Highwood, Huntington Hills, North Haven, North Haven Upper, Queens Park Village, Rosemont, Skyline West, Thorncliffe, Triwood