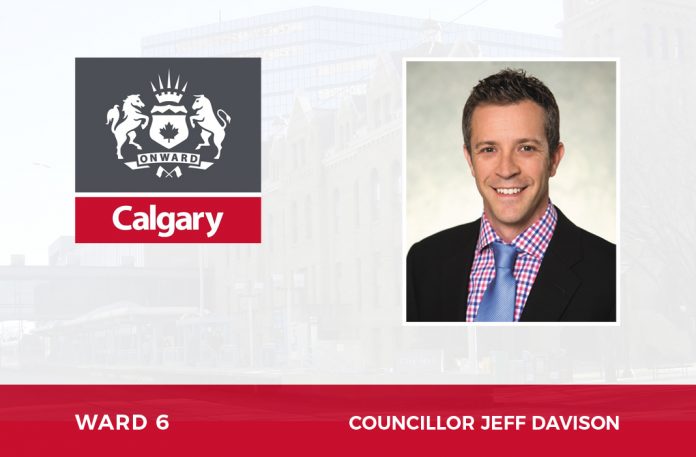 Hello, Ward 6!
Here are your community updates for April 2021.
Save the Date – April Virtual Town Hall
I will be hosting a Virtual Town Hall on April 22 from 7:00 to 8:30 pm online at www.facebook/jeffdavisonyyc. Ward 6 office staff and I will be on hand to address any questions or concerns that you may have. I look forward to hearing your questions and concerns!
Privatized Garbage Collection in Your Neighbourhood
Shout out to GFL Environmental Corp. who was chosen to pilot Calgary's private, black-cart pickup. I supported this pilot project, because I believe that public-private partnerships between businesses and government can improve services, while reducing costs. The program began on April 5 – I look forward to seeing where this goes.
The communities affected by the pilot are: Aspen Woods, Coach Hill, Christie Park, Discovery Ridge, Patterson Heights, Springbank Hill, Strathcona Park, and West Springs.
Development in Your Neighbourhood
Whether it's a new single-family home or a large new development, there's always a new development happening in our city. Now, you can find out about the changes taking place in your community in one easy place.
Visiting www.calgary.ca/pdmap will show you a great interactive map with all the planned development applications that are currently being considered by The City of Calgary.
"Spring" into Spring with Our Local Parks and Pathways
Did you know that Ward 6 is home to amazing community parks and an integrated pathway network? Have you walked down to Griffith Woods, exercised at Optimus Park, and enjoyed the Springbank Hill Community Park? With the spring season just around the corner, I encourage you to visit and enjoy the local community amenities we are fortunate to have in Ward 6. Visit calgary.ca/parks for more information on our parks and pathway network.
Ward 6 – Councillor Jeff Davison proudly serves the following Communities: Aspen Estates, Aspen Woods, Christie Park, Coach Hill, Cougar Ridge, Discovery Ridge, Glamorgan, Glenbrook, Glendale, Medicine Hill, Patterson, Signal Hill, Springbank Hill, Strathcona, Wentworth, West Springs, Westgate