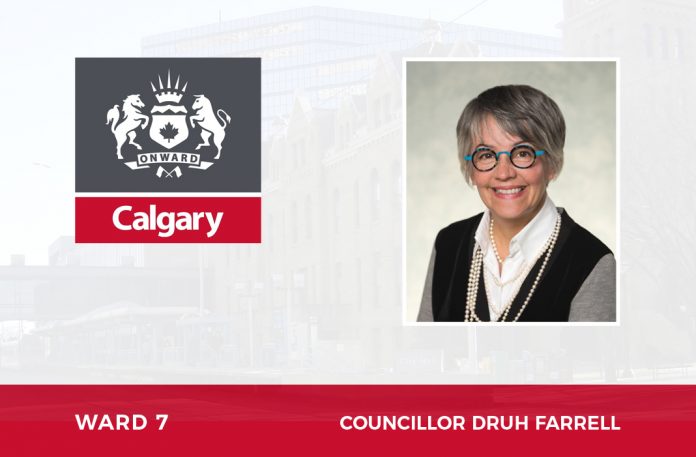 As challenging as our warm, beautiful, COVID summer was, many Calgarians spent the season outdoors in their yards. Now, with the days growing colder again, it's time to clean up your garden or yard to prepare for next year. Here are some simple steps that you can take to prepare for the spring.
I always encourage citizens to "Leave the Leaves" exactly where they are. Fallen leaves increase soil health and provide overwintering places for native bees, butterflies and other beneficial insects. Leaving seed heads encourages healthy growth and provides food for birds and wildlife. Leaf litter also helps to insulate plant roots to protect them from freezing temperatures.
While there are many benefits to doing nothing at all, it is possible to overdo it. Lawn maintenance experts suggest that if you have a yard covered in a 15 cm (6") thick layer of leaves, mulch or compost your leaves to prevent killing off your grass. Mulch helps with water retention, weed control in your yard, and is especially useful around evergreens. Consult your local greenhouse before mulching your leaves to be sure their acidity will not affect your plants and flowers.
If you choose to remove leaves and garden debris, consider these alternative uses:
1. Mulch leaves in your planter beds
2. Mulch leaves on your lawn
3. Compost fallen leaves, dried grass, wood products, paper and straw
Remember that it is important to rake leaves out of sewers and drainage pathways to prevent clogging.
Let's continue to do our best to help the city's pollinator populations thrive and do our part to create a green city full of rich life and biodiversity.
To sign up for updates on key community issues, visit www.DruhFarrell.ca or www.Facebook.com/DruhFarrellCalgary.
Ward 7 – Councillor Druh Farrell proudly serves the following Communities: Balmoral, Banff Trail, Briar Hill, Capitol Hill, Chinatown, Crescent Heights, Downtown East Village, Eau Claire, Hillhurst, Hounsfield Heights-Briar Hill, Montgomery, Mount Pleasant, Mountview, Parkdale, Point McKay, Rosedale, St. Andrew Heights, Sunnyside, Tuxedo Park, University District, University Heights, West Hillhurst, Winston Heights-Mountview