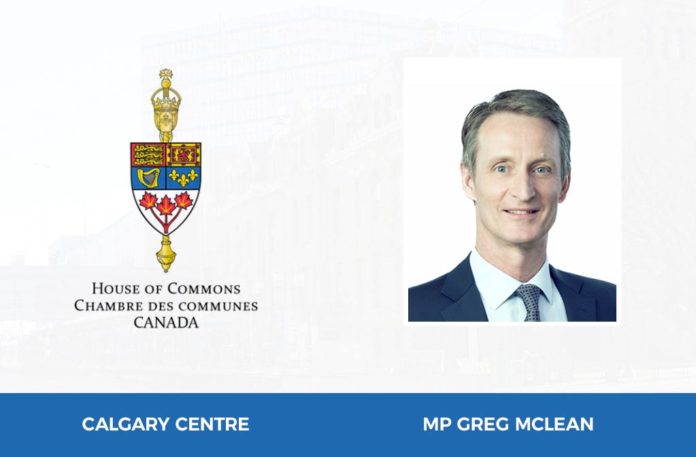 MP McLean, Greg
Dear friends,
It seems like ages ago, but I remember when I was seeking to represent you in Parliament, I spent untold days and evenings walking the streets of Calgary Centre's neighbourhoods, meeting residents, and engaging in discussions on policies that need to be promoted in public service. One of my commitments when I was elected was to continue that practice, as I believe it provides me with broad perspectives – not just during elections, but year-round.
The events of 2020 have changed all that.
We all adjusted to new realities – even politicians. But there have been a few brief interludes in our lockdowns that have allowed me to continue with what I thought I would be doing in this role. In October, I was able to knock on doors in a couple of areas, and I really appreciated the feedback I received on many issues.
Likewise, with Community Associations, as I believe that the people participating in keeping our communities cohesive are largely the constituents most informed about how our elected officials and administrations can address the specific needs of each distinct community. In November, I was able to attend a number of Annual General Meetings of Community Associations, some virtually, but a few in person, fully masked and socially distanced. It was a pleasure to see everyone, and to directly hear the challenges that everyone is facing during these times.
I've heard how some Community Associations had their traditional funding mechanisms, such as hall rentals, seriously curtailed due to the pandemic response. I am working on assisting some Associations with their ability to access funds for the financial disruption they've encountered.
For instance, the new Canada Emergency Rent Subsidy (CERS) offers funding to cover costs such as, utilities and property insurance for owners. There may be some eligible wage subsidies, as well, should the Association have paid staff.
Our world will return to normal – it's just a matter of when. It's our job to ensure that the social cohesion we had before this pandemic continues through this interim period. Supporting our Community Associations and the way they bind the many neighbourhoods in Calgary Centre is part of that effort.
The same holds for all our social and cultural organizations. If you or your organization need assistance with any COVID-related federal support that may fit your needs, please do not hesitate in contacting my office. We are here to help.
Please contact me at [email protected] or by phone at<a href="tel: 403-244-1880"> 403-244-1880 and keep up to date on my work in Parliament on my website, GregMcLeanMP.ca.
Sincerely,
Greg McLean
MP – Calgary Centre Greg McLean proudly serves the following Communities: Altadore, Alyth, Bankview, Bel-Aire , Bonnybrook, Britannia, Burns Industrial, Chinatown, Cliff Bungalow , Connaught (Beltline), Currie, Downtown East Village, Downtown West End, Eau Claire, Elbow Park, Elboya, Erlton, Garrison Green, Garrison Woods, Highfield, Inglewood, Killarney-Glengarry, Lincoln Park, Lower Mount Royal, Manchester, Manchester Industrial, Marda Loop, Mayfair, Meadowlark Park, Mission, Mount Royal, North Glenmore Park, Parkhill, Ramsay, Richmond-Knob Hill, Rideau Park, River Park, Roxboro, Rutland Park, Scarboro, Scarboro/Sunalta West, Shaganappi, South Calgary, Sunalta, Upper Mount Royal, Victoria Park, Windsor Park