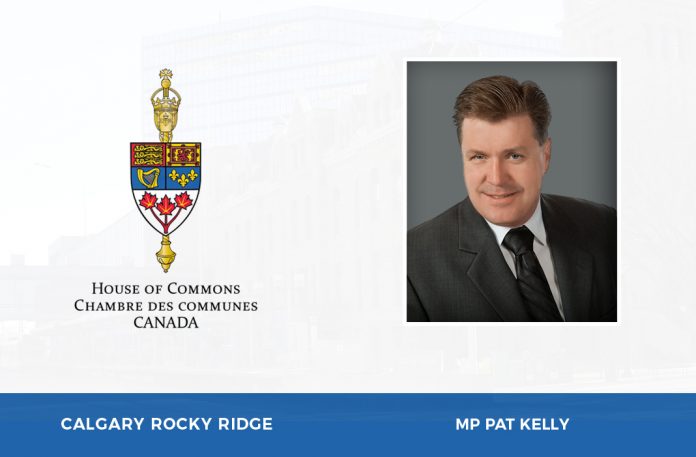 I appreciate this opportunity to thank voters for re-electing me to the House of Commons in September. It is a tremendous honour and privilege as well as an important responsibility to represent Calgary Rocky Ridge constituents in Ottawa. Thank you for once again placing your trust in me as your Member of Parliament.
I send a monthly e-newsletter to communicate local and federal updates directly to interested constituents. This supplements the house-to-house newsletter which is mailed to your home. An archive of my various communication products is available on my website, www.patkellymp.ca. If you would like to be added to the e-newsletter distribution list, please sign up via my website, or contact my office directly by email at [email protected] or by telephone at 403-282-7980.
Each year on November 11, we pause to remember those who have served in defense of Canada. On Remembrance Day, it remains important to wear a poppy and to take part in an act of remembrance, whether by attending a service or in quiet, private reflection. We give thanks not only to those who served, and those who gave up their lives, but also those who continue to serve, ensuring our safety, our freedom, and our security. Lest we forget.
As always, you are welcome to contact my office with concerns or to request assistance with matters related to the federal government. While we are not always able to accommodate in-person visits due to recommended health orders during the pandemic, my staff and I continue to work hard to serve you.
MP – Calgary Rocky Ridge Pat Kelly proudly serves the following Communities: Arbour Lake, Citadel, Evanston, Hawkwood, Kincora, Nolan Hill, Ranchlands, Rocky Ridge, Royal Oak, Royal Vista, Sage Hill, Scenic Acres, Sherwood, Silver Springs, Symons Valley, Tuscany