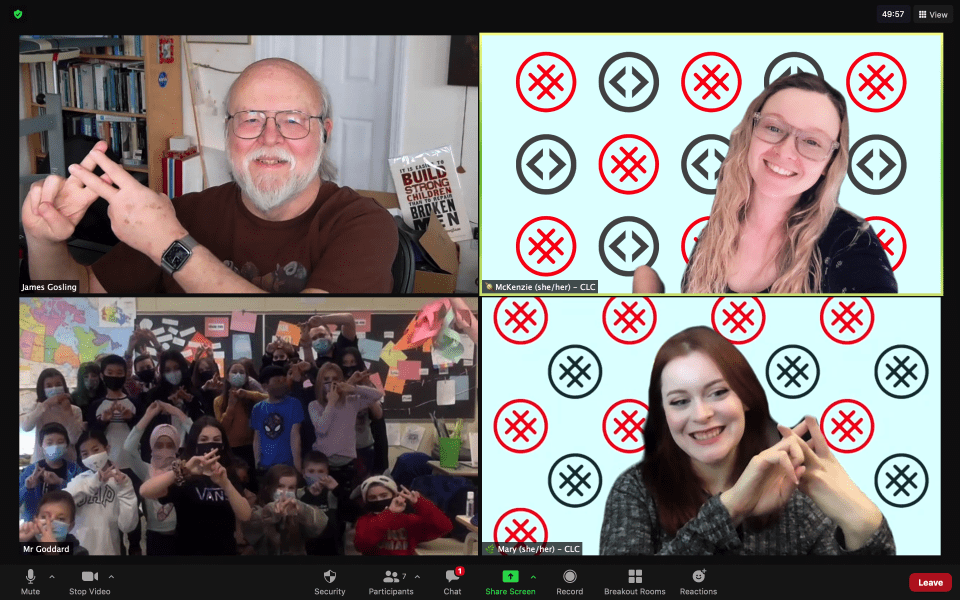 It's no secret that kids love playing video games, but it's not every day that they learn to code one!
Grade four and five students at Valley Creek School received a crash course in computer science on March 8, when digital literacy charity, Canada Learning Code, teamed up with James Gosling – a distinguished Engineer at Amazon Web Services who is best known for developing the Java programming language – for a special interactive coding skills workshop.
Under the guidance of James and a Canada Learning Code instructor, students learned basic skills while coding a video game using Scratch, a software tool built by MIT. Workshop activities focused on coding fundamentals such as loops, variables, and algorithms. James shared memories from his own experience growing up in Calgary, where he got his start writing code in the University of Calgary computer science labs.
The event was made possible with support from Amazon Future Engineer, a program designed to inspire, educate, and prepare children and young adults from underrepresented and underserved communities to pursue computer science. Amazon Future Engineer is dedicated to helping students develop their computer science skills throughout their educational journeys, from kindergarten to high school, while also funding in-demand professional development opportunities for teachers.
Coding education has become increasingly important for elementary school students. Studies have shown that inspiring young children in STEM and computer science motivates them to stay interested long-term, through high school, college, and beyond. Research shows that students are eight to ten times more likely to pursue university degrees in computer science if they have taken computer science in high school. Coding education also equips young people with analytical and problem-solving skills they can apply in a variety of life situations.
The Valley Creek students enjoyed the workshop experience, and the lessons will no doubt have a long-lasting impact.