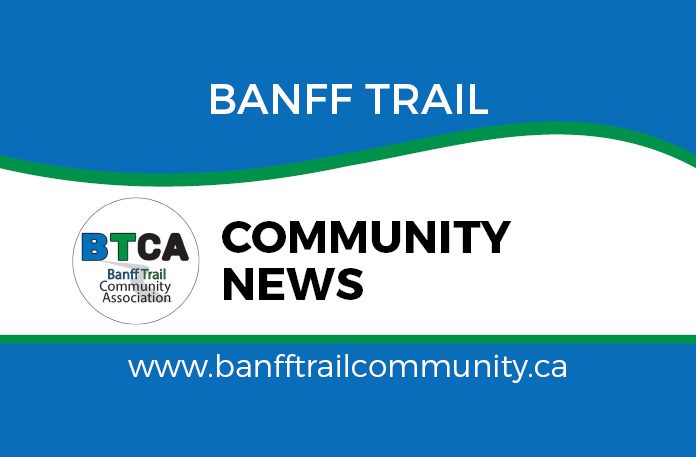 Have you seen our gorgeous gardens behind our Community Hall? You should see how it comes alive with our gazebo during the summer! With the rising costs of groceries, what a great way to connect with the earth and save money as well! Contact [email protected] to register for your very own garden bed in our Banff Trail Community Gardens.
Also, just in time for spring, you may have noticed the new cycle track on 24th Avenue. It's pretty amazing and has done much to increase the safety of cyclists. Please join Capitol Hill and Banff Trail on Saturday, May 14 to celebrate our new cycle track with our Bikefest. Come cycle with us! More details in this issue.
Mother's Day is also coming up! On Saturday, May 7, the BTCA will be holding a Mother's Day Market. Don't have a gift for Mother's Day? Here is your chance to get something super special and unique. This event will be showcasing women owned businesses. More details in this issue.
Back by popular demand! In April, Banff Trail offered its very first Ladies Poker Night. This was a highly successful event with a very large turn-out. So, guess what? BTCA has decided to do it again! Please join us for our next Ladies Poker Night on Friday, May 27. You do not need to know how to play. I certainly didn't! You will be taught by some amazing (and patient) ladies. Real money is not used as this is just for fun. Many thanks to our host, Dana G, who organized this event and brought it to fruition. More details in this issue.
Also back by popular demand are our Game Nights. We will be having two in May. Have a teen or 'tween in your household? Come join the Teen Board Game Night on Friday, May 6 from 7:00 to 10:00 pm. Not a Teen or 'Tween? Join us for the Community Board Game Night on the following Friday, May 13 from 7:00 to 10:00 pm for all ages! Maybe this is a chance for your family to challenge another family. Who will win? More details in this issue.
Have any kids in your household? If you have a kid between the ages of 12 and 17 who is looking to get involved while having fun, we have an opportunity for you! The Banff Trail Youth Council meets once a month and has already done remarkable things for our community. A Youth Group helps foster character, build leadership skills, and provides the opportunity to make new friends! Email [email protected] Many thanks to these amazing young leaders for all they have accomplished and for all their community contributions!
We have a Banff Trail Community Pantry! Please help donate your food items to the panty in front of our community hall. If you have no items, the Banff Trail Youth Council wants to remind us that, "If each of our community centre members contributes $1 a month, $12 a year, we could potentially reduce food insecurity in our neighbourhood significantly". Please email [email protected] for donations or to arrange food donation pick-ups. Be a party to the pantry!
Your Banff Trail Membership is absolutely free! Since the 2018 AGM, the Banff Trail Community Association has voted to set memberships to zero dollars in order to include everyone. For new memberships, please provide your name, contact information, and let us know if you live within the Banff Trail neighbourhood boundaries to [email protected] Or just let us know if you wish to renew as a member for an additional year. Thank you so much for your support! Welcome to all new members!
With the rising costs of groceries, the Banff Trail Community is now offering the Community Good Food Box Program. You select your size of box, which is filled with fresh fruits and vegetables at a very reasonable price, far cheaper than you would buy at the grocery store. In my cases, these items are provided for less than half of what you would pay at a grocery store. Great savings and healthy? Double bonus! More details in this issue.
Want to get your Banff Trail Howler before it comes in the mail? Check out: https://mycalgary.com/magazines/banff_trail/
If you have anything you're interested in, don't hesitate to get involved. Our meetings are now on the second Wednesday of the month from 7:00 to 9:00 pm. Feel free to call 403-282-2234 or email [email protected] You are more than welcome to join us! The Banff Trail Community Association (BTCA) consists of a wonderful group of neighbours who are here to make Banff Trail a great place to be. Thank you for all your time and volunteering efforts.
Your editor for the Banff Trail Howler,
Ravenmoon Spicer
Acknowledging and Honouring Indigenous cultures: Calgary (and Banff Trail) is situated at Mohkinsstsis (in Blackfoot); Wîchîspa (in Stoney); or Guts'ists'i (in Tsuut'ina) in Treaty 7 Territory, Home of the Blackfoot Nations, Stoney-Nakoda Nations, Tsuut'ina Nation, and Home of the Métis Nation of Alberta, Region 3. We pay our respect to the First Nation and Métis ancestors of this place and reaffirm our relationship with one another; in doing so, we are actively participating in reconciliation as we navigate our time in this course, learning and supporting each other.