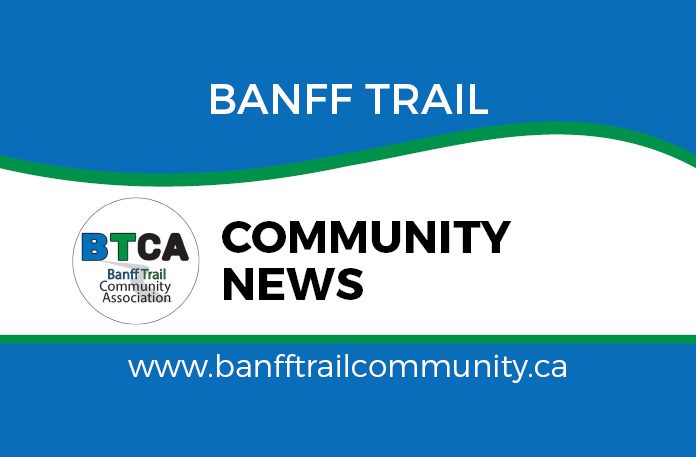 Happy New Year! I hope everyone had a safe and splendid winter holiday! Many thanks to those who kept their Christmas decorations up bringing cheer and keeping the festive spirit alive well into the new year.
We have our Banff Trail Community Pantry in front of our community hall for food donations. This pantry is heavily used and in constant need of donations. Please help donate foods and thanks to those who do so repeatedly. Keep in mind that some things do not do well in colder temperatures such as cans, jars, and produce. Regardless of the cold, bitter winter, this is the time of high demand.
The Youth Council also took part in holiday gift wrapping. In December, neighbours were able to drop off their gifts to have them expertly wrapped in exchange for monetary donations. All funds were donated to the Brown Bagging for Calgary's Kids, an organization working towards helping families with food security by providing nutritious, homemade meals for Calgary's kids. Thank you so much for your Gift Wrapping by Donation Fundraiser and we hope to hear about your success!
Is there a kid in your home? Are they looking for a volunteer opportunity that delivers fun, parties, and friendship? The Banff Trail Youth Council is right in your neighbourhood. We are very proud to have Kim Jordan as our Youth Leader. Join our youth group! [email protected]. Many thanks to the Banff Trail Youth Council who invested much time and energy stocking up our community pantry. More details in this issue.
On November 26, the Banff Trail Community Association created a Scotch Tasting Event for beginners to connoisseurs. This was a fundraising event where all funds raised will go towards the new playground facilities. Last month, we featured current photos of our outdated playground in need of major renovation. Thanks to all the volunteers, organizers, and participants. More details in this issue.
Many thanks to the Banff Trail Conversation Club, the Kerby Centre, and Cobs Bread for the "Grab a Free Loaf" Day on November 15. I managed to grab a few loaves myself, some cookies, some cake, croissants, and some bagels which were the best! The Banff Trail Conversation Club meets every Monday (rain, shine, or holiday) from 1:00 to 4:00 pm at the Banff Trail Community Hall. Participants choose their own topics.
Your Banff Trail Membership is absolutely free! Since the 2018 AGM, the Banff Trail Community Association has voted to set memberships to zero dollars in order to include everyone. Please provide your name, contact information, and let us know if you live within the Banff Trail neighbourhood boundaries to [email protected]. Whether you are new or renewing with us for another year, welcome and thank you.
Would you like to see a cycle track in your neighbourhood? More details are in this issue about the Banff Trail Cycle Track.
Want to get your Banff Trail Howler before it comes in the mail? Check out https://mycalgary.com/magazines/banff_trail/.
If you have anything you're interested in, don't hesitate to get involved. Our meetings are always on the first Wednesday of the month from 7:00 to 9:00 pm. Feel free to call 403-282-2234 or email [email protected]. You are more than welcome to attend! The Banff Trail Community Association (BTCA) consists of a pretty awesome group of neighbours who are here to make Banff Trail a great place to be.
Your editor for the Banff Trail Howler,
Ravenmoon Spicer
Acknowledging and Honouring Indigenous cultures: Calgary (and Banff Trail) is situated at Mohkinsstsis (in Blackfoot); Wîchîspa (in Stoney); or Guts'ists'i (in Tsuut'ina) in Treaty 7 Territory, Home of the Blackfoot Nations, Stoney-Nakoda Nations, Tsuut'ina Nation, and Home of the Métis Nation of Alberta, Region 3. We pay our respect to the First Nation and Métis ancestors of this place and reaffirm our relationship with one another; In doing so, we are actively participating in reconciliation as we navigate our time in this course, learning and supporting each other.