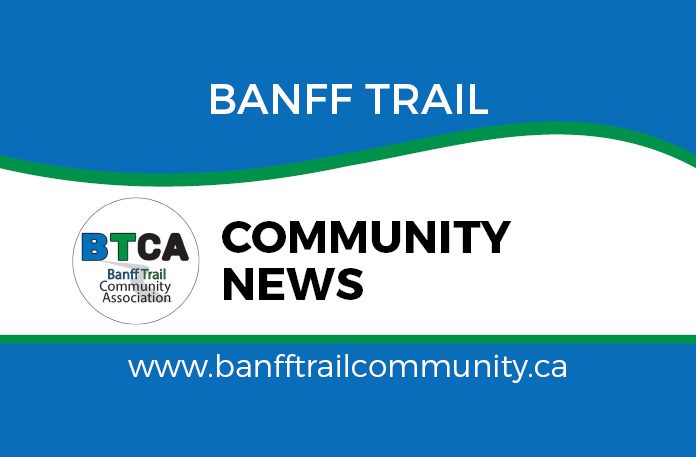 Please note that the Annual General Meeting (AGM) is coming up once again. This is the time when members get to have a voice and choose candidates to represent Banff Trail Community as your 2021–2022 Banff Trail Community Association. The AGM will take place on September 18 at 10:00 am to 12:00 pm at the Community Centre. Hope to see you all there! More details in this issue.
On August 13, the Banff Trail Community with the City of Calgary hosted the Community Nature Adventure Playground, a free space that allowed kids to rediscover nature play. Our resident kids were able to create their own nature adventure playgrounds, bringing natural materials together in an outdoor space. The kids showed off their amazing imagination and ingenuity by using branches, twigs, rocks, and other loose parts to build, demolish, assemble, and change their own self-designed mini-environments. Thanks to all those who attended and being a part of the fun!
Also last month, the Kerby Centre and Cobs Bread with our own BTCA Conversation Club, hosted a Free Bread and Rescued Goods for Seniors Event on August 9 at our own Banff Trail Community Hall. It was so nice to see many faces after such a long time apart due to COVID-19. All those in attendance went home with a free load of bread! How yummy!
We now have a Banff Trail Community Pantry in front of our community hall for food donations. Since the pantry is new, please help donate foods to help get us started! Thank you so much to those who have already done so.
Your Banff Trail Membership is absolutely free! Back in 2018, the Banff Trail Community Association voted to set memberships to zero dollars at the AGM. In order to include everyone, this has free-membership program has continued. Please provide your name, contact information, and let us know if you live within the Banff Trail neighbourhood boundaries to [email protected].ca. Whether you are new or renewing with us for another year, welcome and thank you.
Is there a kid in your home? Are they looking for a volunteer opportunity that delivers fun, parties, and friendship? The Banff Trail Youth Council is right in your neighbourhood. We are very proud to have Kim Jordan as our Youth Leader. Join our youth group! [email protected]
Would you like to see a cycle track in your neighbourhood? More details are in this issue about the Banff Trail Cycle Track.
If you have anything you're interested in, don't hesitate to get involved. Our meetings are always on the first Wednesday of the month from 7:00 to 9:00 pm. Feel free to call 403-282-2234 or email [email protected]. You are more than welcome to attend! The Banff Trail Community Association (BTCA) consists of a pretty awesome group of neighbours who are here to make Banff Trail a great place to be.
Your editor for the Banff Trail Howler,
Ravenmoon Spicer
Honouring Indigenous cultures: Calgary (and Banff Trail) is situated at Mohkinsstsis (in Blackfoot); Wîchîspa (in Stoney); or Guts'ists'i (in Tsuut'ina) in Treaty 7 territory, home of the Blackfoot Nations, Stoney-Nakoda Nations, Tsuut'ina Nation, and the Métis Nation of Alberta, Region 3.