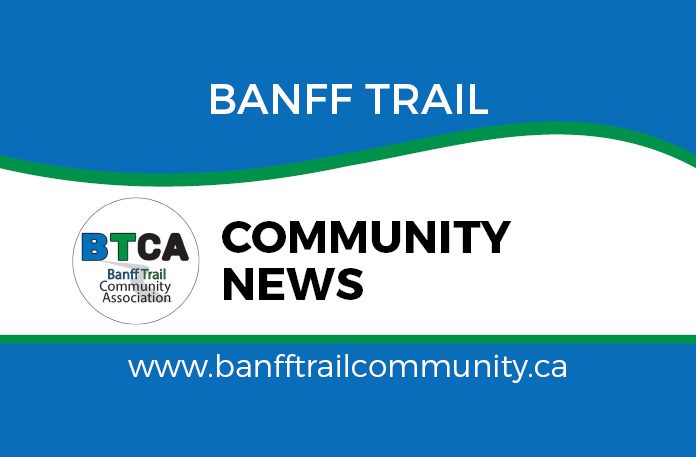 The summer came and went too quickly, but that is alright since autumn is my favourite season. That means there is much work to be done, winterizing your home and car, raking leaves, and enjoying the last bit of warm weather.
Please note that the AGM (Annual General Meeting) for the BTCA is this month! This is when members get to vote for their new BTCA Board Members. Members, please be sure to attend this meeting so that you choose a board to best represent your voice. On the same day, we also hold our annual Harvest Festival. In the past, this has included soups or chilis made from ingredients grown in our very own Community Gardens behind our hall. Be sure to look out for details in this issue.
On the last Friday of each month, please join us for Ladies' Poker Night. You do not need to know how to play. The group has excellent Texas Hold 'Em instructors for first-time players. This takes place at the Banff Trail Community Hall on the last Friday of every month. See you there! Next fun day: September 30 from 7:00 to 9:00 pm.
Please check out our Blackfoot murals by Kalum. Kalum just recently completed the horse mural outside of the hall and it looks marvelous! Thank you, Kalum, for bringing your amazing talent and culture to us. More details in this issue.
Have any kids in your household? If you have a kid between the ages of 12 and 17 who is looking to get involved while having fun, we have an opportunity for you! The Banff Trail Youth Council meets once a month and has already done remarkable things for our community. A Youth Group helps foster character, build leadership skills, and provides the opportunity to make new friends! Email [email protected]. Many thanks to these amazing young leaders for all they have accomplished and for all their community contributions!
Due to a number of concerns, the BTCA regrets that the Banff Trail Community Pantry was removed in July 2022. Many thanks to those who contributed in the past. For those who still wish to contribute, please use the pantry at the Capitol Hill location. We apologize for any inconvenience.
Your Banff Trail Membership is absolutely free! Five years ago, the Banff Trail Community Association voted to set memberships to zero dollars in order to include everyone. For new memberships, please provide your name, contact information, and let us know if you live within the Banff Trail neighbourhood boundaries to [email protected]. Or just let us know if you wish to renew as a member for an additional year. Thank you so much for your support! Welcome to all new members!
With the rising costs of groceries, the Banff Trail Community is now offering the Community Good Food Box Program. You select your size of box, which is filled with fresh fruits and vegetables at a very reasonable price, far cheaper than you would buy at the grocery store. In many cases, these items are provided for less than half of what you would pay at a grocery store. Great savings and healthy? Double bonus! More details in this issue.
Want to get your Banff Trail Howler before it comes in the mail? Check out: https://mycalgary.com/magazines/banff_trail/.
If you have anything you're interested in, don't hesitate to get involved. Our meetings are now on the second Wednesday of the month from 7:00 to 9:00 pm. Feel free to call 403-282-2234 or email [email protected]. You are more than welcome to join us! The Banff Trail Community Association (BTCA) consists of a wonderful group of neighbours who are here to make Banff Trail a great place to be. Thank you for all your time and volunteering efforts.
Your editor for the Banff Trail Howler,
Ravenmoon Spicer
Acknowledging and Honouring Indigenous cultures: Calgary (and Banff Trail) is situated at Mohkinsstsis (in Blackfoot); Wîchîspa (in Stoney); or Guts'ists'i (in Tsuut'ina) in Treaty 7 Territory, Home of the Blackfoot Nations, Stoney-Nakoda Nations, Tsuut'ina Nation, and Home of the Métis Nation of Alberta, Region 3. We pay our respect to the First Nation and Métis ancestors of this place and reaffirm our relationship with one another; in doing so, we are actively participating in reconciliation as we navigate our time in this course, learning and supporting each other.