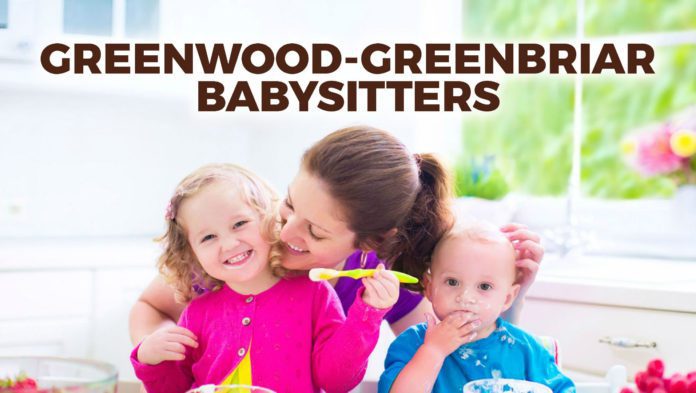 Mybabysitter.ca is a free service which allows eligible Greenwood-Greenbriar babysitters to connect with parents seeking babysitting services. To find a great babysitter in your area or to create a babysitter listing go to
www.mybabysitter.ca
.
Babysitters from nearby communities
Age: 15 years oldGender: FemaleHourly Rate: 15.00Babysitter Course: yesFirst Aid Training: yesCPR Certified: yesLives in: Tuscany
Hello everyone, my name is Abigail, but everyone calls me Abby. I am a 14 year old Jr. High Student. I am very academic and an arts and crafts kind of girl, so I know your children and I would have tons of fun. I love to read and create things, such as clay figures, mosaics, jewelry, and drawing. I also love to bake, and share the goodies when they're ready. I live with my mom and 2 siblings. My brother is much older and is finishing college. He used to be a college football player. We spent lots of time tossing the ball around and playing video games…sometimes ;-). My younger sister is my best friend. She is almost 13 and also loves kids, just like me! Growing up with a younger sister has taught me many lessons and values on how children should be treated, even when you get a little frustrated. We've been great role-models for each other. I have enjoyed babysitting other children for the past couple of years. Every little person is so different and full of life. They definitely all have their own individuality and have something new to teach me every time we see each other. I'm certain they have enjoyed their time with me as much as I with them. I always come prepared with my handy-dandy craft bag, and sometimes a little treat if mom and dad are ok with that. I would love the opportunity to meet you and your children. If we are good fit, we will have many fun adventures during our time together. I am tech savvy, but also realize there is a time and place for electronics. I am not the babysitter you will see on her phone texting. My time is dedicated to the children I am with and only them. Please feel free to contact me for a meet and greet and your earliest convenience. Thank you kindly and I look forward to meeting with you. Abby
Age: 15 years oldGender: FemaleHourly Rate: $12Babysitter Course: yesFirst Aid Training: noCPR Certified: yesLives in: Tuscany
Age: 22 years oldGender: FemaleHourly Rate: depends on the number of children and number of hours (ranging from 5-15 per child)Babysitter Course: yesFirst Aid Training: yesCPR Certified: yesLives in: Tuscany
I'm a university student studying biology, I have two dogs (I love animals). In my free time I like to travel and hike. I am a responsible adult that has babysat children since I was 11 years old. I love children!
Age: 15 years oldGender: FemaleHourly Rate: 8Babysitter Course: yesFirst Aid Training: noCPR Certified: yesLives in: Tuscany
Age: 16 years oldGender: FemaleHourly Rate: 14-17Babysitter Course: yesFirst Aid Training: yesCPR Certified: yesLives in: Tuscany
I've lived in Tuscany all my life.  I'm in grade 10 at St Francis, and get along really well with younger kids.  I have 3 cousins, who are 9, 7 and 4, and have looked after them in the past.  My dad will drive me to your house and pick me up, so you don't have to worry about travel.
Age: 18 years oldGender: FemaleHourly Rate: 15Babysitter Course: noFirst Aid Training: yesCPR Certified: yesLives in: Tuscany
I was a cadet for 3 years, I now volunteer at my church's childcare department in order to do that I needed to take a course on how to care for minors. I have a flexible schedule. I am willing to do some light cleaning while taking care of your children.
Age: 25 years oldGender: FemaleHourly Rate: 18-20Babysitter Course: yesFirst Aid Training: yesCPR Certified: yesLives in: Bowness
Theank you for taking the time to read a little about me… My mission statement: to know I am whole, to live in gratitude, to serve relentlessly, to forge my values into steel, to grow unconditionally, to nurture relationships, to make each moment count and to ask myself what would love do? I have completed •Child Care level one, • Standard and Advanced First Aid • Alberta Food handling courses • High FIVE Outdoor learning for children • level one ski teaching certification And can obtain a valid Clean Criminal Record Check Previous child care experience includes: Nanny for 2 families with 2 children each for a collective 2.5 years, organizing and teaching an emotional intelligence through art class (some for kids and some for adults), Winsport summer camps, ski coaching at Canyon Ski Resort and COP, daycare and of course the occasional babysitting. Previous volunteer experience with children include: drama camp, leading ceramics classes, and drumming circle. Also, volunteered this year at Sangha: a festival of medicine as the arts coordinator. There were many kids around that I was working and interacting with. In the seasonal positions -such as summer camps and ski coaching- I learned how to lead a group of children and the importance of healthy discipline In the nannying and daycare position I had learned how important it is to help them realize that they are worthy of love and belonging unconditionally and tend to their emotional needs as well as providing strong boundaries to help them develop a sense of right and wrong, and internalize self discipline. Two years ago I had volunteered with the Canadian Ski Patrol and had obtained my advanced first aid. I had received hands on experience with concussions and other types of injuries so I feel comfortable using it in practical situations – which of course, hopefully will not be required. Around that time I was also working on my Communications Major and Visual Arts Minor at Red Deer College and finished my last year with Deans and Presidents Honour Roll. My passion lies in Visual Arts; specifically painting. I have had my art on display at the Red Deer Museum, Weeds cafe, Louise Riley and Destination Art. My husband and I are a writer/painter duo looking to help serve and add value to people. Currently we are looking for work to put towards our savings for future endeavours. Feel free to look online at the things that I am working on. IG/FB LivingTree.creative (these two are the most frequently updated) And also our website: www.livingtreecreative.com I have reliable transportation, drivers licence and insurance for the last six years. I do not smoke or have any aversions to pets. Currently, I am looking for a job that is part time with a family that is open to making the time we have together an emotionally enjoyable space. Thank you again for taking the time to read through the text, and I look forward to chatting with you soon ? Kind regards, Andrea
Age: 17 years oldGender: FemaleHourly Rate: $10Babysitter Course: yesFirst Aid Training: yesCPR Certified: yesLives in: Tuscany
Hi! My name is Anika. I go to a Spanish immersion school and I will soon be entering grade ten.  I am fine with babysitting late nights, and I am very flexible with dates and times. I love to read, draw, and play games with younger kids and toddlers, although older kids are great as well! I am very patient and tolerant, as well as responsible and mature. I would love to babysit your child; please e-mail, text or call at 403-923-3513, or at [email protected] I am also available to tutor grade 1-4 math, reading, and writing, at an hourly price of 15$.
Age: 15 years oldGender: FemaleHourly Rate: 7-10Babysitter Course: yesFirst Aid Training: noCPR Certified: yesLives in: Tuscany
I am friendly and kind and love little kids.  I play soft