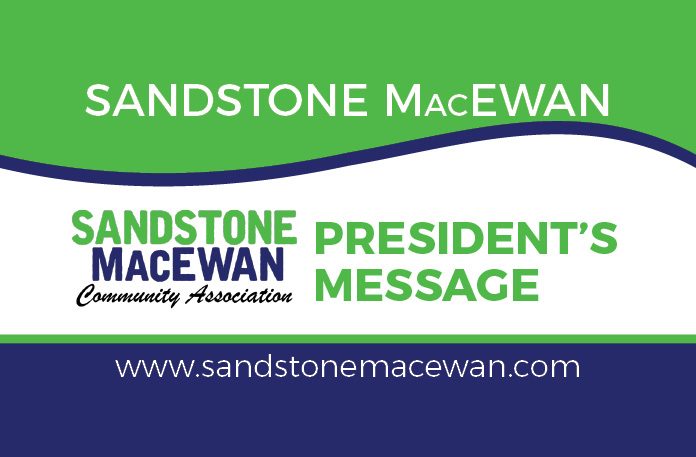 Remembrance Day is November 11, and it is likely most events will be held virtually. Don't forget to honor all of those who fought and those who lost their lives fighting for their country with two minutes of silence at 11:00 am on this day.
Our SMCA Annual General Meeting (AGM) will be in November, however, we have not secured a date at the time of this submission, pending completion of the bi-annual financial statements.
Our volunteer for October is Jennifer Bidlake-Schroeder who has been a Board Member since 2017. Amongst other things, Jenn has been tirelessly working with the city and engineers on two major projects – the shed rebuild at Sandstone Park and the rink rebuild on Sandarac Drive. Jenn and her husband, Jeff (also a longstanding SMCA volunteer), have lived in MacEwan since 2005, and their kids, Nate, and Cali, attended Simons Valley Elementary and have taken advantage of the amenities in our community over the years. Jenn understands the value and importance of volunteering and is always one of the first to contribute to her community, as well as the schools and activities for her kids. The SMCA Board cannot thank you enough for your continued support!
As you may recall, the SMCA Board informally initiated a skate exchange program. If you have skates to donate or need skates, please email us at [email protected].
We are looking for volunteers to assist with the hockey rink. This rink is available to all individuals, regardless of age, so whether you play hockey or not, please consider assisting when you can. It typically works best to clean and flood in the evening; however, a flood can happen during the day if there are individuals available.
Thanks to those who are submitting amazing photos of the landscape and animals in our neighborhood! Every month we select one photo for the cover page of our SMCA Newsletter and include several others for inside the newsletter that showcase our great community. Submit photos to [email protected]. Photos must be high resolution and received by the 9th of the month to get into the following month's edition.
Thank you for the continued support of your membership purchases! To mention two of our most popular features: our yearly operating costs to manage the Christmas lights at the Sandstone Drive rink are over $1,600 and our planter program, with seven planters, is over $5,000. We hope to have more planters in our two communities, but we need your help.
Please go to sandstonemacewan.com to purchase your SMCA memberships online or email Carolyn Gomez at [email protected]. Those who purchase a three-year membership ($50) will receive a SMCA to-go mug and those with a one-year membership ($20) will receive two SMCA beverage koozies.
Please contact us on our website or our social media sites including Facebook SMCA, Twitter @sandstonemac, or https://www.instagram.com/sandstonemacewan/. Look for our occasional emails and email us at [email protected] to be included in this distribution list.
Sue Coatham, President, SMCA
Celebrating 35 years of SMCA