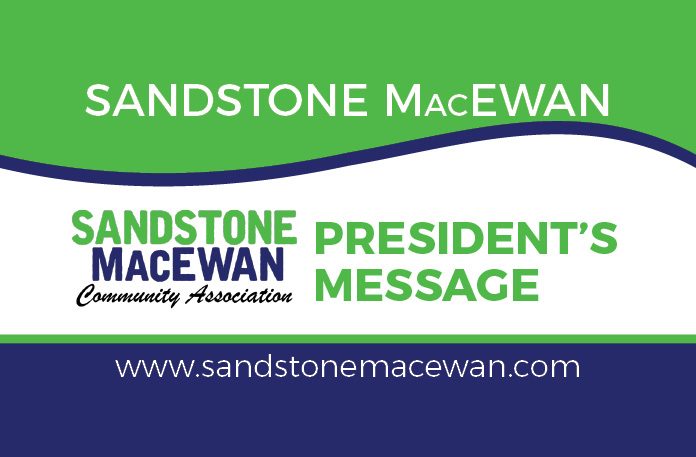 Happy Thanksgiving!
I hope you were able to take advantage of our community clean up in September. The Board would like to thank the 224 Scouts, Joe Tofani, Jeff Schroeder, Dale Struckness, Kevin Sawaby, Tina and Jessica Wu, and Kayla Nagorski for all their hard work!
Welcome Captains Ian and Deanna Scott who have recently replaced Peter and Amanda Robinson at the Berkshire Citadel Church. They are from Alberta and have worked with the Salvation Army in PEI, MB, ON, and AB. Captains Ian and Deanna are excited to be back in Alberta after completing four years in inner-city Toronto. They are looking forward to getting to know the community and developing and renewing partnerships and relationships. The SMCA Board looks forward to continued partnerships with the Berkshire Citadel Church. They are available at [email protected]; [email protected].
The background work continues with the community garden as we work with the City of Calgary to secure land. We appreciate your willingness to get involved!
The Municipal Election is October 18, 2021, with advance polling from October 4 to 10. Please check this address for where you can vote: https://www.calgary.ca/election. You may be aware of the change in electoral boundaries and the Sandstone and MacEwan Communities have been moved into ward 3.
This summer we hired Sabey Landscaping to place seven large planters around our communities. We've received excellent comments throughout the summer from long time residents. We hope to increase the amount of planters, although it does not come without a cost. Our current budget for this planter program is $5000 per year, so please continue to support your communities!
To purchase your membership by cheque our address is 300, 8120 Beddington Blvd NW T3K 2A8 or online go to sandstonemacewan.com or email Carolyn Gomez at [email protected] Three-year memberships ($50) qualify for a SMCA go mug and one-year memberships ($20) receive two SMCA beverage koozies.
Do you have photos you would like to share? Every month we select one picture for the cover page of our SMCA Newsletter and include several other pictures for inside the newsletter that showcase our great community. Submit photos to [email protected]. Pictures must be high resolution and received by the ninth of the month to get into the following month's edition.
As usual, we will be looking for volunteers to assist with the hockey rink this year. Last year we were fortunate to have a great core group of volunteers who kept our busy rinks in great shape! We have our pleasure rink at 99 Sandstone Dr. and our hockey rink that is between the two elementary schools on Sandarac Dr. It typically works to clean and flood in the evening; however, it can certainly happen during the day if there are individuals available.
Please look for more information on the date of our AGM in November. We are anticipating our auditor will have completed our bi-annual financial audit by then.
Please contact us on our website or our social media sites including Facebook SMCA, Twitter @sandstonemac or https://www.instagram.com/sandstonemacewan/. Look for our occasional emails and email us at [email protected] to be included in this distribution list.
On behalf of the Board, I wish you a fun and safe Halloween.
Sue Coatham
President, SMCA
Celebrating 35 years of SMCA