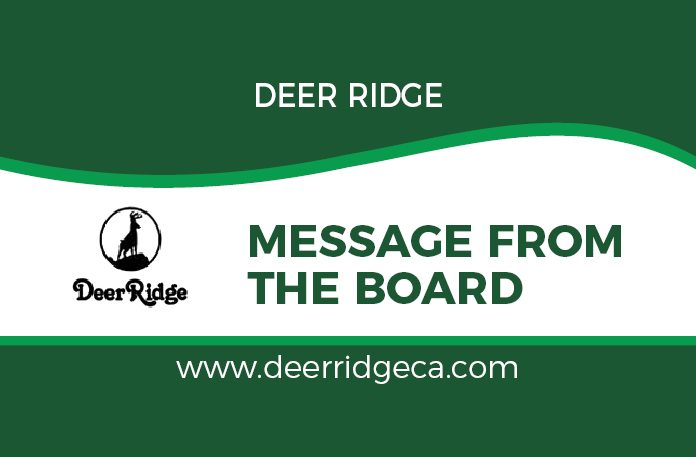 Skating Rinks
Exciting news: the skating rinks are being groomed and readied for opening! Work was done this past summer to get the rink resurfacing completed, new boards were installed on the long benches in the centre of the pleasure rink, and the skating rinks await the first skaters of the season. Bring your family, or your cohort, and enjoy some safe outdoor and distanced, wholesome exercise and family fun. Community membership is not required. All efforts are being made to ensure that the rinks can remain open for you to enjoy, safely and responsibly.
Family Winter Skate Day
Deer Ridge Community Association is planning to hold the Annual Family Winter Skate Day in January. There will be skating on both the shinny rink and the pleasure rink, music to skate by, a fire to warm up, and all COVID restrictions will be observed. Plan to come out for some safe family fun with your community neighbours. This event is free and community membership is not required. Watch for details on our website, and in the Community Association email bulletin, as we get nearer to the date.
Alberta Children's' Hospital Virtual Physician Visits
Do your kids need to see a doctor, but you're not sure if it's urgent or can wait until tomorrow? Or possibly, their doctor can't see them late in the day, or you just can't get an appointment soon enough? The Alberta Children's Hospital physicians have heard you – and they've opened up an urgent pediatric medical advice service that's delivered virtually, by Pediatric Emergency Physicians.
The Virtual Kids same-day appointment service is available to Alberta families on evenings and weekends. You don't need to leave your home, and there's no cost to you for this service, although valid Alberta Health Insurance is required. If telemedicine access is difficult for you, the physician will call you at the number you provide during the booking.
This service is not designed to replace your child's regular physician, but rather, is complementary to the excellent regular medical care your child is already receiving. Virtual Kids physicians will work collaboratively with your child's regular physician. A record of your child's virtual health visit will be sent to your child's regular doctor.
Go to https://virtualkids.ca/ for details and to schedule an appointment.
StoryShare
Do you know, or are you, a senior who would enjoy hearing a story, or has a story to share? Storytelling Alberta (Calgary Chapter) offers StoryShare, a free, friendly, outreach program for seniors who love a good story. There are 3 options, each at no cost to the client:
There's an Individual StoryShare Chat, a story delivered to you or someone you love, by a professional storyteller, via phone or video platform. You can share a story, too. There will be a community volunteer available to connect the senior to any needed resources.
Join a StoryShare Tellaround by phone or video, and tell a story, or simply listen, in a warm, friendly, group story sharing circle.
Or participate in a Legacy Recording, done by phone or video platform, where a senior's story may be recorded, or the senior may be interviewed for their story, as part of the Legacy Project.
This free service is available to all Calgary and area seniors 65 years of age or over. Sessions are also offered in French, Spanish, Urdu, and Dutch. Request a story or give a story – it's the gift of connection, of inclusion, and of a darn good time sharing with others.
Learn more at https://storytellingalberta.com/aboutstoryshare, and request a story using the online form, https://storytellingalberta.com/storyshare-request-form.
Email: [email protected] | Phone: 587-578-5STORY 0 (587-578-6790)
Community Association Membership
Membership in the Deer Ridge Community Association is still only $15. Your membership helps support the skating rinks, tennis courts, events such as Movie in the Park, and the Annual Family Winter Skate. Your membership gives you a voice and a vote at Community Association Board Meetings. At Community Association meetings, you will also have the opportunity to ask questions, and offer your feedback to our government and City police representatives, who attend each month to give us updates and answer questions.
We would like to hear from you – what's important to you in Deer Ridge? Where should we be focusing our efforts? Please become a member and join us in making, and keeping, Deer Ridge a great community.
Upcoming Community Association Meetings
Community Association Board meetings are held the 3rd Tuesday of each month. We would love to have you join us at these meetings. It's very important to us to hear your views, your concerns, and where you would like us to direct our attention on your behalf.
Upcoming meetings are scheduled for:
Tuesday, January 19, 7:00 PM.
Tuesday, February 16, 7:00 PM
Tuesday, March 16, 7:00 PM
Please watch the website and the Deer Ridge Community Association email bulletin to see whether the meeting will be held in person or virtually.
Wishing each and every one of you a warm, happy, and safe festive season, and a happy, healthy, and prosperous new year.