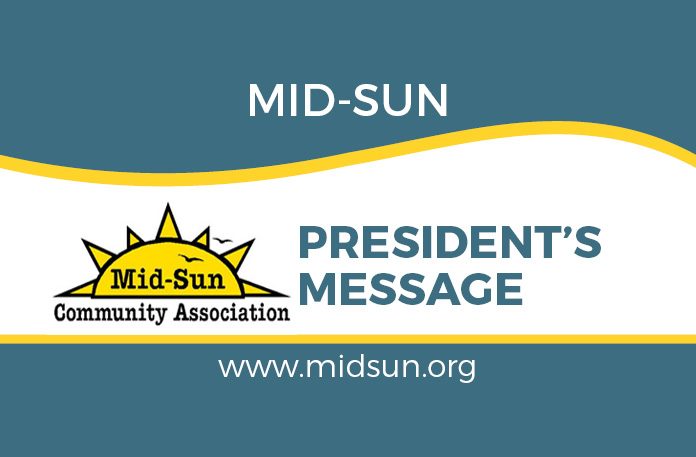 Happy New Year Mid-Sun!
My motto for this year is "See it through in 2022"! That's because I was only partially successful in last year's "Get it done in 2021" motto! It should have been 'get it started' because although I did start a lot of things, I didn't finish a lot of things. I did clean out my office – but put all the unfinished projects to one side. I went through a few photos but there are still boxes of them to get sorted. Perhaps with a new year and a new motto I'll get these completed.
In the Community Association, we did get the bylaws updated (yahoo!) but the policies still need to be reworked – we should finish those up this year. We are planning for landscaping but are still waiting for information on our grant applications. Would love to see those through in 2022!
We have two exciting initiatives underway in the community. The first is the Business Liaison program, which will officially kick off in the spring. The second is a project to paint a few utility boxes and garbage cans in the area. If there's a utility box in the community you'd like to see painted, please let me know the location and I'll add it to the list.
The other day, while I was walking in the neighborhood, I came across a lovely little dog running around with no leash, and no collar. While I was debating what to do, a gentleman came by and started knocking on doors in an attempt to locate the dog's owner. Two more people stopped to help, and a lady and two children came out of their house to lend a hand. After a discussion, we decided on a course of action, managed to catch the little lost dog and he was eventually united with his owner. I'm mentioning this because it highlights the fact that we live in a kind, caring community where people want to help each other. That just seems like a nice thought to start off a New Year.
Wishing you all a wonderful 2022!
Patsy