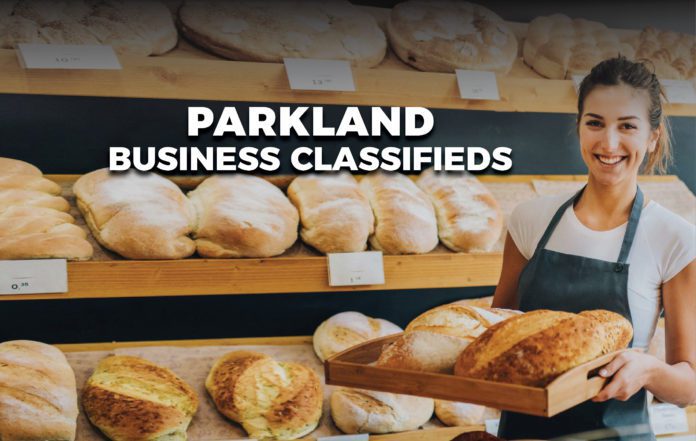 NEPTUNE PLUMBING & HEATING LTD: Qualified journeymen plumbers/gasfitters, very experienced in Parkland. Upfront pricing. Reliable, conscientious, fully guaranteed. Mon – Fri 8:00 am – 5:00 pm. 24-hour emergency service, call 403-255-7938. "Showering you with great service."
PARKLAND MORTGAGE BROKER: SAVE A BUNCH OF CASH! As a local mortgage professional, I have helped your neighbors navigate their purchase, refinance, and renewal options. If you are looking for expert advice, excellent rates, many options, and better mortgages, Call Anita at 403-771-8771 | [email protected] | Licensed by Verico Avenue Financial Real Estate Solutions.
HERITAGE WEST PLUMBING AND HEATING: 5-star Google rating, Senior and Veteran discounts. Highly trained plumbers and gasfitters. Water heaters, furnaces, boilers, drain cleaning, leaks, and renovations! Competitive prices with quality, 24-hour service! Heritage West, we are one of the best, put us to the test! BBB Accredited. 403-993-0639.
PARKLAND CONTRACTOR FOR HIRE: Over 20 years' experience completing renovations in and around Parkland. Lefroy Construction is happy to quote, organize and execute any renovation or new construction project. Call 403-616-0880 to discuss your project. www.lefroyconstruction.com.
OFFICIAL PLUMBING & HEATING: Small company, low overhead, excellent warranties, and great rates. Specializing in residential service and installs. Services include furnace service and replacement, hot water tank service and replacement, leaks, clogs, gas fitting, and more. Licensed and insured. Why wait? Call today and get it fixed today! Available 24/7, we accept debit/VISA/MasterCard. Call 403-837-4023 or email [email protected]; www.official-plumbing-heating.ca.
ACTIVE SPORTS THERAPY: Looking for Parkland Sports Chiropractic, Parkland Active Release Therapy, Parkland Physiotherapy, Parkland IMS, or Parkland Massage Therapy? Our unified team of expert practitioners have one common goal – to help you achieve a higher standard of health so you are able to do all the things in life that you love to do. Call us @ 403-278-1405 or visit activesportstherapy.ca to book a free consultation.
YOUR PARKLAND HOME SOLD GUARANTEED: If you are looking for a realtor in Parkland contact Len T. Wong at 403-606-8888. With over 33 years of real estate experience in Calgary, Len T. Wong is here to assist with buying and selling homes in Parkland. https://calgaryluxuryhomesearch.com
ABOVE & BEYOND CONSTRUCTION LTD.: Serving Calgary for over 30 years. For free estimates on any interior or exterior renovations, additions, basement development, kitchens, bathrooms, flooring, painting and new construction, fully insured. No upfront payment required. Check us out at www.aboveandbeyondconstruction.ca or call 403-278-3433.
ACTIVE SPORTS THERAPY: Looking for sports chiropractic, Active Release Therapy, physiotherapy, IMS, or massage in Parkland? Our unified team of expert practitioners have one common goal – to help you achieve a higher standard of health, so you are able to do all the things in life that you love to do. Call us at 403-278-1405, or visit activesportstherapy.ca to book a free consultation.
BASEMENT WINDOWS R-US: New or larger window openings – includes complete install. Digging, concrete cutting, material/dirt hauled away. Member of the BBB. Call 403-201-0317 or cell 403-660-0612.
LANDSCAPING, WINDOW CLEANING, AND SNOW REMOVAL: Weekly yard care starting at $36. Mulch, rock, and sod installation. Window and gutter cleaning starting at $99; interior/exterior/screens. Garden beds, stone patios, walkways, raised beds, rock walls, deck and fence builds, small concrete jobs, and pressure washing. A+ Member of BBB, 4.1 Google stars. Licensed. Insured. WCB. 403-265-4769 | YardBustersLandscaping.com.
NEED A LIGHT? Local certified Electrician. WCB insured master electrician. Specializing in home renovations, basement developments, panel swaps, and EV charging systems. Aluminum to copper conversion. Call today for a free estimate. Cypress Electric. Grayson 403-466-8733, or check out our website, cypresselectric.ca. Let us light up your life!
NEIGHBOURHOOD CONFLICT? Community Mediation Calgary Society (CMCS) is a no-cost mediation and conflict coaching service that can help you resolve problems and restore peace! We help neighbours be neighbours again! www.communitymediation.ca, 403-269-2707.
PARKLAND HOUSE AND CAT SITTING: Going out of town? Need someone to check your house so you have peace of mind in case of an insurance claim? We will check your house while you're gone for water leaks, take care of your plants and we will cuddle and feed your cats! Long time Parkland residents; call 403 278-0462 or email [email protected]. References supplied.
PARKLAND LANDSCAPER: Jackson & Jackson Landscaping have been serving Calgary since 1979 and we are well qualified to design and implement the landscaping needs of your home. We are an established business in Parkland with a reputation for providing outstanding quality landscaping and customer service. Call Cam at 403 371 3814 for a free consultation and quote.
PROMOTE YOUR BUSINESS IN PARKLAND: We create highly-targeted, cost-effective advertising campaigns in our large portfolio of monthly community newsletter magazines that have extremely high readership. We also create and implement highly-effective geo-fenced digital advertising campaigns. For a free consult, call Great News Media at 403-720-0762.
RELIABLE LADY IS ABLE TO CLEAN YOUR HOME: Weekly or bi-weekly, Monday to Friday. I charge by the job. Telephone Mrs. Batti at 403-720-8689. Please leave a message if I am not at home.
SMITH PROPERTY RENOVATIONS: Experienced general contractor with high attention to detail. From kitchens to bathrooms and decks to fences with everything in between. Check out my website and homestars page for pictures and reviews. Free estimates, licensed and insured. Website: Sp-renos.ca, phone: 587-333-5568, email: [email protected].
THE GUTTER DOCTOR! Eavestrough cleaning, repairs, and installation. Fascia, soffit, cladding, roofs, siding, heat cables. For over 18 years and 50,000 projects we have done the job right – and it's always guaranteed! Fully Insured, Licensed, WCB coverage. A+ rated BBB member. Top award winner. www.gutterdoctor.ca, 403-714-0711.
URBAN ELEMENT SNOW REMOVAL Get a head start on locking in an experienced company to handle the headache of snow removal this year. With affordable monthly rates, we will be there every time the snow falls to clear your property. Let us handle the cold so you don't have to.
Please call or text Jakub Kusy for a quick reply and free estimate, 403-826-4214.
YOUR HANDYMAN: All kinds of work around your house, including interior and exterior. Any type of job: small job, good job