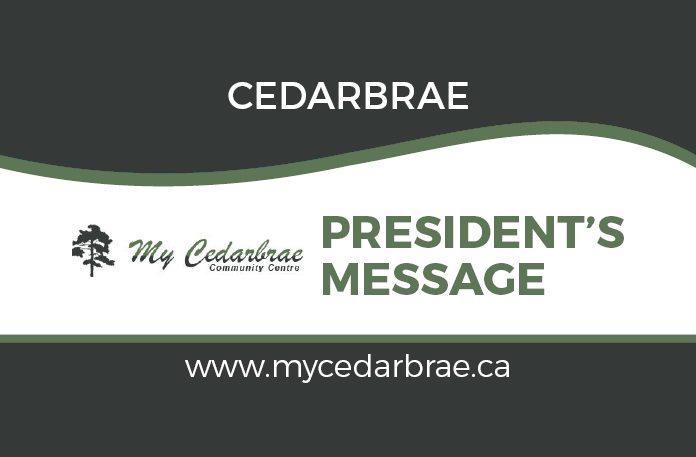 What a year! As I write this in early November, I can hardly believe that Christmas and a new year are quickly approaching. But COVID-19 still remains with us, and we must remain vigilant in our behaviours to reduce spread until a vaccine is available. Unfortunately, we currently seem to be in the midst of the predicted "second wave", and it is up to all of us to protect ourselves and our loved ones. The Community Centre remains open at the moment and we hope to keep it so. If you visit, please enter the front doors already wearing a mask, and sanitize your hands at the dispenser immediately as you walk in. As well, kindly follow any protocols established for your group.
As mentioned last month, we reopened the Centre to limited activities, and are slowly expanding. Unfortunately, we had to make the difficult decision to cancel our popular Christmas Craft Market and Bake Sale event usually held in early December.
For those association members who attended our AGM in November, please accept our thanks! At the meeting, a new 2020/2021 Board of Directors was elected for the Association. We would like to give an especially large thank you to those members who stepped up to participate as board members and contribute directly to life and well-being in our community. We always appreciate the volunteer help we get, and we are still looking to fill two important board roles of Treasurer and Vice President. Our current Treasurer, Ron Bichel, has been doing a fantastic job with the Association for the past 8 years, and he has agreed to serve for one more year. We would like someone with a financial accounting background and working knowledge of QuickBooks to step forward, and to work alongside Ron in a transitional period, and thereafter take up the Treasurer's position. If you or someone you know might be interested, please reach out to me, care of our office at 403-251-2101. I would love to chat with you over a coffee to discuss this important role. Similarly, the Vice President role is vacant for someone interested in supporting me in the general management of the Centre and its events, activities, and programs.
Supporting Community,
Martin Waugh