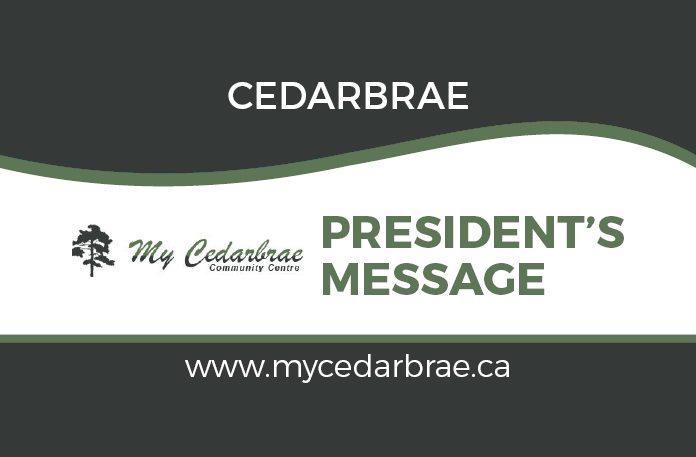 Back to: School? Work after a vacation? The office after working from home? Eating out or going to a movie? Whatever you're back to, I hope any ongoing COVID pandemic restrictions allow some semblance of back to normal.
Your Cedarbrae Community Association Board and Staff have been continuing to work through the summer closure to obtain financial grants for building maintenance and improvements. We have been (and are) pursuing grants to refurbish the hockey rink and to repurpose it with outdoor Pickleball court facilities with fencing, while allowing it to still be flooded for winter ice hockey. Other grant pursuits include rebuilding the community gardens, disc golf (Frisbee) equipment, and the replacement of our aged HVAC utility equipment and washroom vanities and sinks.
Our dedicated Board of Directors and Staff have been busy planning programming for a reopening of the Centre's activities this fall. As always, you should refer to our website or Facebook page, or our street sign out front. We have several renters running their programs again too. Perhaps you want to rent a space for an AGM, a meeting, a class, or celebration of your own? As ever, please call the office if you would like more information 403-251-2101.
Our Annual General Meeting is scheduled for Wednesday, October 13 at 7:30 pm at the Centre. All are welcome, but only members may exercise voting rights. Come and meet our neighbours and Board of Directors! If you are interested in serving on our Board, we would very much like to have you join us! We are always in need of volunteer support.
Supporting Community,
Martin Waugh