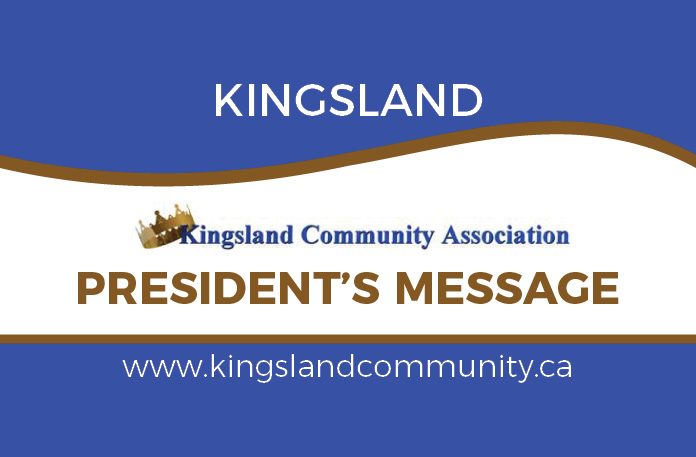 Hello Kingsland,
Fall is in the air and with the change of seasons, many changes are happening for the Kingsland Community Association.
The Kingsland Community Association is putting forward a Special Resolution to change our bylaws. They were last updated 5 years ago, and we wanted to simplify them and update them to reflect the Board's practices, and make them easy for members, prospective members, and volunteers to read and understand. Please see the notice in the newsletter on Special Resolution with more details. Members will receive direct communications as well on the proposed changes, and they will be available for anybody to see on the website in advance of the AGM.
Our Annual General Meeting will be held on October 28, 2021 at the Kingsland Community Centre (watch for details on COVID-protocols to come closer to the date). The agenda will include:
Social Resolution and vote on KCA Bylaws
A President's report of the year's activities
The Treasurer's Report and Audited Financial Statements
Elections of Directors of the Board,
Reports from the Planning Committee and Social Committee
An opportunity for Community Members to ask questions
I'd like to thank two long term Board members who are stepping down; Christine Dombroski is stepping down as Vice-President after 13 dedicated years of service in many roles. She will stay on as our Lifecycle Director, skillfully managing operations and improvements at our community centre. Christine has been integral to keeping our Community Association and Hall running smoothly, and I am so grateful for all she has done for the community.
Donna David is also stepping down as our Social Committee Director. Donna has planned countless events for the community over the years. We hope to see you at future events Donna, and thanks for your contribution to Kingsland's social scene for so many years! We are recruiting for Social Committee Director, if you have ideas or want to get involved in events or activities big or small or for all ages, please email [email protected].
In October, we have a new Planning Director, Brandy MacInnis. I have no doubt she will be a great asset to our planning group here in Kingsland at a time when many developments are underway. Welcome Brandy! Thanks again to Ann Clarke for stepping up to help our Planning Committee in the interim.
The Board has taken the summer off but starting in September we are hoping to kick off many initiatives: social activities, a new website, and increased events and social activities as it becomes safer to do so.
As always, don't hesitate to reach out if you want to connect, have feedback, ideas, questions, or content ideas for the newsletters.
I'm looking forward to seeing what spooky setups people have for Halloween, I think we went over the top last year and can't wait to see what's in store for this year.
Sincerely,
Amy Mireault