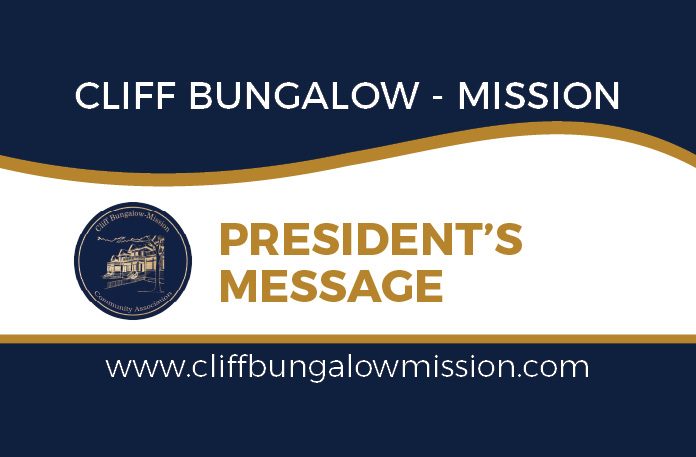 President's Report
Keep up to date – sign up for email updates
Things can and do change, and quickly. The newsletter is not frequent enough to communicate things that are changing on short notice regarding the community association, the community centre, and community events.
So, in order for us to keep you up to date, please register your email address near the bottom of the first page of our website. Our email list is then updated to include your email address. The website is www.cliffbungalowmission.com.
Impact of Lockdown and COVID-19
At the time of writing this column (early March), things are easing slightly, but not enough for us to hold community events in the hall. All jazz events are cancelled to, and including, April 7. Any scheduled jazz events beyond that date will be evaluated on a monthly basis. We also currently are not renting the hall to third parties until at least the end of September. We will update on any changes through emails, etc.
New Online Events in April
Lynn MacCallum, our Environment Director, has organized an online event called 'Gardening Naturally' on Tuesday, April 20. Tickets can be purchased online. There is also an option to purchase a book on this topic, in addition to the ticket purchase. More details are elsewhere in this newsletter.
On Thursday, April 29, there will be an online Climate Conversation event facilitated by Calgary Climate Hub. The evening will consist of having local experts introduce their topic, gathering in groups to discuss the topics and areas of interest for you, and looking at ways to move this from discussion to climate action. You register online. Details are elsewhere in this newsletter. There is no charge for this event.
Direct Control Heritage Area Pilot in our Community
In July 2020, City Council approved the "Heritage Conservation Tools and Incentives Update Report". This allows the City to develop and put into place new heritage conservation policy tools and financial incentives. More information is at www.calgary.ca/heritagetools.
One of those tools is Layer 3 Direct Control Heritage Area. Our community has been chosen as a potential pilot for this new heritage tool. In late January, letters were sent to qualifying property owners, and invited them to take part in the pilot starting with an online information session on February 16 and 25. The City attended our online Planning and Development Committee meeting on February 10 and provided us with more details. I personally attended the February 25 information session. The City indicated there would be a third online information session on March 18. Then property owners would have until March 26 to indicate whether they wished to participate further. The City will choose three or four blocks with the highest percentage response of property owners wishing to participate to continue the process.
There are 26 communities with what are called heritage assets. Three communities have been selected to potentially participate in this pilot. Besides Cliff Bungalow – Mission, Bankview and Crescent Heights have also been invited to participate. Crescent Heights is part of the North Hill Communities Local Area Plan (LAP) which is going to Council on March 22 for approval and is the first to be potentially approved. LAPs will replace Area Redevelopment Plans (ARPs). LAPs include many communities and not just one like our ARPs do.
Direct Control Heritage Areas will not restrict redevelopment of properties, but the Direct Control (DC) will identify elements on which a proposed redevelopment is evaluated by the City. These elements might include side yard setbacks, front porch or balconies, window style, and architectural details.
We hope one of the blocks to participate in this pilot is in our community.
Another passing with community links
There was another passing of a person who had connections with our community. Terry Hawitt passed away on February 27 at the age of 91.
Terry was one of the founders of Parks Foundation Calgary, through which we have benefited over the years. One of the projects he championed was the creation of Rouleauville Square, that is on 1 Street SW between 17 and 18 Avenues SW. The Parks Foundation also accepted donations to get our historic street signs project started, and more recently the Parks Foundation managed the funding received for the Pocket Square located on the southwest corner of 17 Avenue and 5A street SW. Many communities in Calgary have benefited from his efforts.
Another Heritage Tree Cut Down
We have unfortunately lost another heritage tree in our community. This one was located at 330 25 Avenue SW, where construction started early in March. The City requested the removal of this tree due to the poor condition of the tree and the opinion that the pending construction would probably damage it further. We have named this phenomenon as "Condo Disease", due to the fact that this frequently occurs due to construction of buildings like this.
300 Block 25 Avenue SW
The Planning and Development Committee met with the company helping the landowner apply to redevelop the lots on which four houses are located at 306 to 312 25 Avenue SW. The four houses (three built in 1910 and one built in 1911) would be torn down to accommodate a new seven storey building. These houses currently have several suites each.
A Land Use change is being proposed to allow the new building. The new Land Use would be a Direct Control District (DC) based on M-H2 Land Use District with modifications for the specific site – FAR (Floor Area Ratio) of 4.5 and a height of 28 metres. The current Land Use allows up to five stories. 3.5 FAR and a height of 15 metres.
The plan is to send this proposed Land Use change to the Calgary Planning Commission in April, and onto a Public Hearing of City Council on May 31, where anyone can submit written comments and can make a five-minute verbal presentation. We will send out an email when the date is confirmed and about how you can voice your opinion on this matter. Please register your email online at our website: www.cliffbungalowmission.com.
During September 2020, we posted an online survey to find out what community residents think about building heights. This knowledge will help CBMCA as we deal with this proposed land use change. You still have an opportunity to complete this short survey and voice your opinion, go to https://bit.ly/3hbE6FA. Around three quarters of respondents do not support the land use change.