Keep up to date – sign up for e-mail updates.Things can and do change and quickly. The newsletter is not frequent enough to communicate things that are changing on short notice in regards to the community association, the community centre and community events.
So, in order for us to keep you up to date, please register your e-mail address near the bottom of the first page of our website. Our e-mail list is then updated to include your e-mail address. The website address is www.cliffbungalowmission.com.
Impact of Lockdown and COVID-19
At the time of writing this column (early April), COVID-19, restrictions have increased. All jazz events are cancelled to and including June 2. We are planning the 2021/2022 jazz performance season starting Wednesday, September 1. We currently are not renting the hall to third parties to the end of September. We will update on any changes through e-mails, etc.
New Online Events
Melissa Parcels, our Social Director, is working on some online social events. So far, the list includes a Book Club, Trivia Night and Cooking Classes. While we hope to have more details to include in this newsletter, we may need to inform you of the details via e-mail and social media.
Virtual Flood Readiness Session
We are working with the City of Calgary to set up an online Flood Readiness session. We will inform you through e-mail and social media when we have more details.
5A Street Is Now on The City of Calgary Historic Streetscapes List
5A Street and its treed boulevard is on The City of Calgary Historic Streetscapes list. This does not prevent redevelopment on that street. It is more of heritage recognition and another factor to consider if redevelopment is proposed. The historic significance is as follows:
"The formal, ordered design of the boulevards reflects the influence of the City Beautiful Movement in urban development/planning. The movement supported beautification and formality to encourage order and harmony within society. William Roland Reader, Calgary's Superintendent of Parks and Cemeteries from 1913 to 1942, was influenced by the City Beautiful Movement in the establishment and early growth of Calgary's parks and open space system. One of his principle initiatives was the creation of streets lined with trees and developed with landscaped boulevards and medians." (City of Calgary)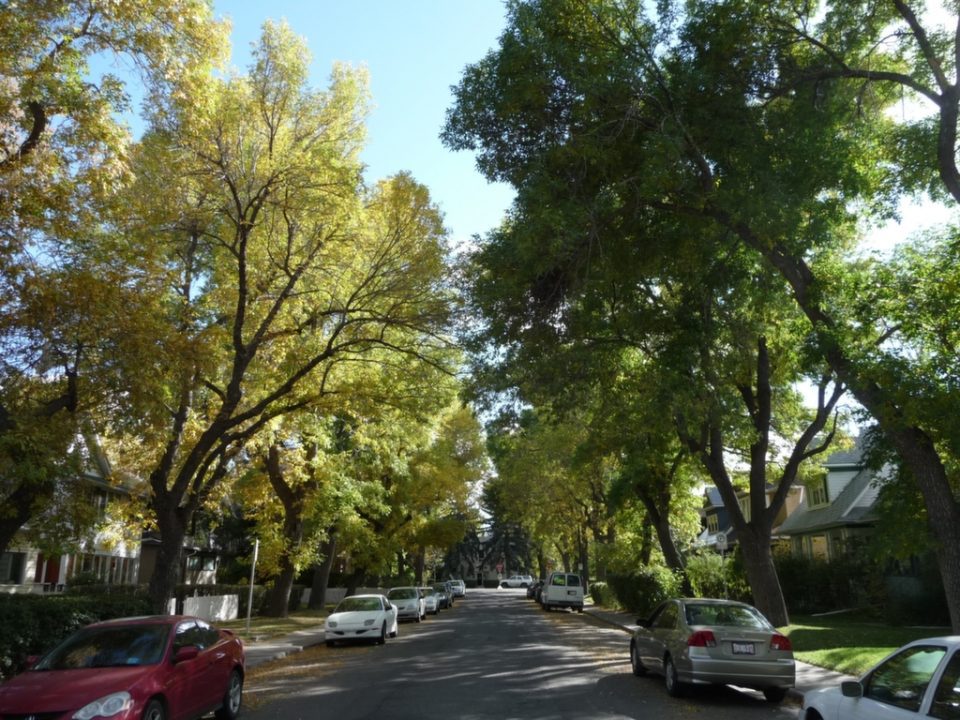 Ted Knudtson Received the Faces of Community Award For 2021
The Federation of Calgary Communities has been recognizing special community volunteers for several years through an award program called Faces of Communities. Ted Knudtson, our Vice President, was awarded this award for 2021. Ted was a phenomenal volunteer to our community when COVID-19 hit, and he shepherded many community-based actions during in response COVID. He also received a Community Hero Award at our November AGM. A write up for that award was published in the January newsletter. Here is the link to the write up for the Faces of Community Award:
https://calgarycommunities.com/faces-of-community-2021-stories/2021-faces-of-community-ted-knudtson/
300 Block 25 Avenue SW
There will be a public hearing of City Council, possibly on May 31, on the application to change the land use designation for 306 to 312 – 25 Avenue SW where there are currently four houses. The four houses (three built in 1910 and one built in 1911) would be torn down to accommodate a new seven-storey building. These houses currently have several suites each.
A Land Use change is being proposed to allow the proposed new building to be built. The new Land Use would be a Direct Control District (DC) based on M-H2 Land Use District with modifications for the specific site – FAR (Floor Area Ratio) of 4.5 and a height of 28 metres. The current Land Use allows up to five stories. 3.5 FAR and a height of 15 metres.
The plan was to send this proposed Land Use change to the Calgary Planning Commission in April and onto a Public Hearing of City Council on May 31 (to be confirmed) where anyone can submit written comments and can make a five-minute verbal presentation. We will send out an e-mail when the date is confirmed and how you can voice your opinion on this matter. Please register your e-mail online at our website: www.cliffbungalowmission.com.