Hello Southwood!
Summer is ending and with that the kids are returning back to school and the cooler temperatures are around the corner. I don't know about you, but I love the changes of the season, especially after this hot summer we have just been through!
Last month I promised I would talk about the beautiful mural that has been painted on the south side of the community hall. I would like to thank our community artist, Melanie Dick, for taking on the initiative to bring the needed pop of colour to the hall. Through her hard work and dedication, Melanie was able to secure a grant from the City of Calgary to help cover the costs involved. The CA is so pleased with the result, and we encourage everyone to stop by the hall to enjoy what has been applied! For a quick view, please enjoy the photos in the newsletter. I would also like to thank all of the volunteers that took the time to help Melanie paint and set up all the scaffolding to ensure it was a safe worksite. I would also like to thank Kirstin for donating her time to apply the base coat needed for the mural. These wonderful acts are what make living in Southwood so amazing!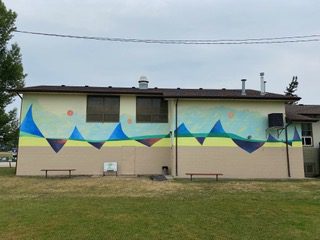 This is a friendly reminder that school will be back in session at the beginning of September. With that, there will be a number of children near the roads, and I ask that you all please keep your eyes peeled, especially when they are trying to cross a street. We have several playground zones in Southwood, and I ask that you all continue to respect these speed limits to not only protect the children, but every pedestrian moving around the community.
I want to send a huge thank you and congratulations to the Southwood Community Garden team for a wonderful celebration that took place at the end of July to mark their 10-year anniversary! I, unfortunately, was unable to make the party, but I heard great things from the partygoers and from the pictures it looks like everyone had a great time!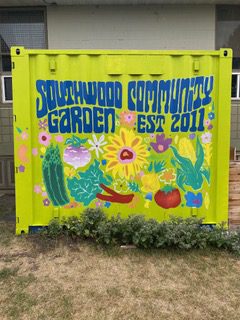 Many of you may have noticed increases in graffiti being applied to several surfaces throughout the community. If you come across anything, please send in a 311 request; the City has been very quick to respond to this sort of vandalism. If you happen to come across any graffiti that is derogatory or discriminatory with hate words and whatnot, please file a police report online. At the community hall we have had a few incidents where there have been some terrible words defacing our property. Thankfully our response to this was to apply a beautiful mural to cover it – thank you Emma and Teresa! – after filing the police report.
Our first board meeting back will take place on Thursday, September 23 at 7:00 pm. We will be meeting at the hall in the Chateau Room. If you would like to participate in the meeting, you are more than welcome to join. We will also have a link available through Zoom if you are unable to join. Meeting ID: 288 454 5027 Passcode: CA
As always, please feel free to reach out to me if you have any questions or concerns, [email protected].
All the best,
Becky