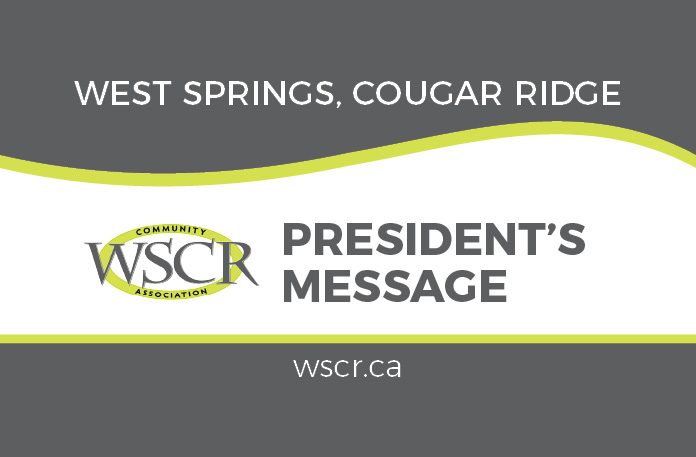 With the New Year upon us, I would like to take this opportunity to reflect on the challenging year we experienced as a community, as well as look forward to a new year together.
Over the past year, some of us became teachers to our children, while balancing work from home challenges, some of us went to work as front-line workers and faced an increased risk of being infected by a virus, and some of us, with local businesses, faced critical changes to our futures. Many services and offerings, such as the ones our community association offers, had to be canceled, some temporarily, but others were impacted indefinitely. Through all the hardships and struggles we have faced as a community, I am still optimistic that, as a whole, we will succeed this year, and for many years to come. I am encouraged to have seen and heard about the many ways our community has cared for their neighbors, supported the vulnerable, and attempted to connect with each other.
I'd like to take this opportunity to recognize and thank our community volunteers who run the popular programs of the WSCRCA. You saw a need to keep our community engaged through sport and special events, even throughout a pandemic. You were able to adjust and re-imagine some of our most popular programs such as, the Halloween in the Garden, Virtual Santa Events, Community Garden, Movie in the Park, and the virtual Engineering for Kids classes. Your amazing efforts really helped make a positive difference within our community.
For 2021, we are looking forward to once again, safely offering our Community Soccer League, Community Recycling Event, Learn to Skate and Power Skate sessions, Community Garden, Movie in the Park, Santa Visits, Halloween in the Garden, and our DogPawty event. We don't know what the future will hold, but our volunteers are finding ways to continue these events in the safest way possible, while strictly following the recommended COVID guidelines.
I also want to thank our sponsors for their continued support, for the association and the community at large, especially during these uniquely challenging times. Please remember that shopping local, as well as ordering local take-out, helps to keep these wonderful businesses going and keeping our community spirit alive.
Wishing you all a healthy and prosperous 2021, from my family to yours.
Paul Ghazar
President, West Springs / Cougar Ridge Community Association
Building a strong community | www.wscr.ca