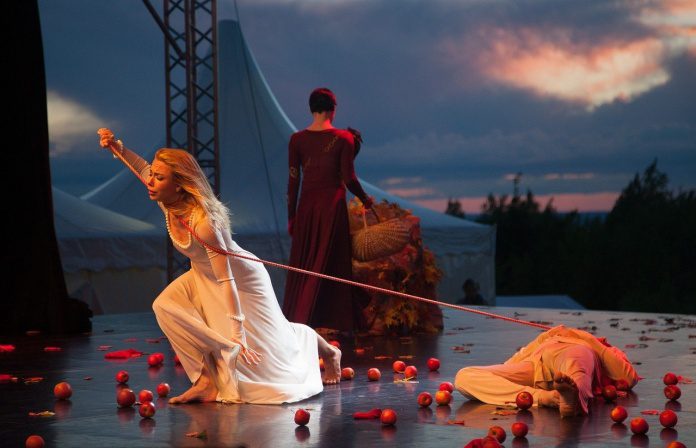 by Aaron Chatha
A new year and a bevy of new theatre to watch!
The biggest event in the arts world this January is undoubtedly the High Performance Rodeo, Calgary's biggest International Festival of the Arts. Running throughout the month, shows include locally produced pieces, like Live Your Prime, with Damien Frost – a hilarious satire about getting old, featuring the award-winning John Murrell – or the French absurdist dance and circus show Cow Love, which "mixes haute couture with the sour taste of milk, with a hint of romance."
Other plays include monologues by a member of Kids in the Hall, Hammered Hamlet and the always popular 10-minute play festival – all part of the Rodeo.
Meanwhile at the Calgary Philharmonic Orchestra, the conductor Sarah Hicks is kicking off the New Year with Music of the Movies – a tribute to great film scores and composers. Timeless tunes from Singin' in the Rain, Ennio Morricone's Once Upon a Time in the West and – of course – Star Wars will be featured in the set list.
At Theatre Calgary, Rick Miller premieres BOOM X, a one-man, multimedia show taking us through media and pop figures from 1969 through 1995. The production follows Generation X as they navigate the tangled legacy of the baby boom.
For a uniquely Canadian tale, Café Daughter at Alberta Theatre Projects takes audiences back to 1950s Saskatchewan, where a half Chinese, half Cree girl struggles to find her place in a small-minded community – until an unexpected ally steps in.
Finally, join The Search for Life Beyond Earth with astrobiologist Kevin Hand in the latest Arts Commons Presents: National Geographic Live series. Hand's job with NASA is to search for life in the stars, but interestingly, his research begins in the extremes of Earth, in places like Alaska and Mount Kilimanjaro.
Start the new year off with a little art Calgary!
This column is provided by Arts Commons. Located in the heart of Calgary's vibrant downtown core, Arts commons is home to six different distinct performance venues.