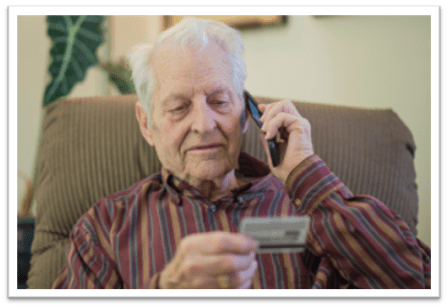 No matter your age, no one is immune to scams. In the most recent 2020 BBB Scam Tracker Risk Report, romance scams continued to be the riskiest scams for ages 55 through 64, and travel/ vacation/ timeshare scams were again the riskiest for ages 65+. Regardless of the type of scam, BBB recommends the following precautions to avoid becoming a victim.
Tips To Spot a Potential Scam:
Watch out for phone fraud. Scammers will claim to be with a government agent or pose as a bank employee. However, caller IDs can be easily spoofed, and government agencies don't make unsolicited calls.
Know the red flags. Most scammers use common tactics to get your money or personal information.
Only hire trustworthy, licensed contractors. Never hire someone who just shows up at the door and don't let them in or around your home for an inspection.
Strange phone call? Might be an emergency scam. Older adults can be susceptible to emergency scams and other ploys because they aren't familiar with the information about themselves and their family available online.
Do your research before making an investment. Investment cons often target older adults because of their greater financial resources.
Think before you click. Older adults may be less comfortable with technology, making them more vulnerable to phishing schemes and hacking.
Be on guard for "sweetheart" swindles. Older adults who are widowed or divorced are frequent targets of romance scams.
Reach out to someone you trust. Scammers want victims to feel isolated. Don't hesitate to contact a friend, family member, or organization you trust for advice. A second opinion can greatly reduce your risk.
Take time to research your purchases. Scammers often make unsolicited offers to older adults for medical supplies, anti-aging products, and vitamins and supplements.
Guard your personal information carefully. Never share your personal information with a stranger on the phone, in an email, on a social media network, or otherwise.
For more information visit BBB.org.