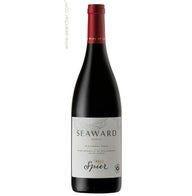 by Nik Rasula
About Wine features wines not typically on one's shopping radar; unique wines with a story – of people, place, or style. It tells of artisans making reasonably priced wines (under C$50 retail,) while demonstrating careful Earth consideration.
2018 Spier, Seaward Pinotage, Stellenbosch – W.O. Coastal Region,                                            South Africa
About the Backstory: In 1687, fleeing religious persecution, members of France's protestant Huguenot population departed Provence for South Africa (SA), settling in the Coastal Region of the Western Cape. Bringing tradition, skill, and select vine cuttings, the émigrés established winemaking on the Cape of Good Hope.
About Terroir: Harvested from select vineyards along the Atlantic seaboard, soils of clay and decomposed granite enable drainage and nutrient uptake, aiding vine growth and grape development. Cooling oceanic influences – the Antarctic Benguela Current and prevailing southeasterly Cape Doctor winds – provide welcome moderation to the region's warm Mediterranean climate.
About the Grape: In 1927, desiring the best of both, Abraham Perold, the father of South African viticulture, crossed a Cinsault flower (locally called Hermitage) with Pinot Noir pollen. Planting the offspring in his residence garden, he gave birth to a new varietal given the combined name Pinotage. Found abandoned and nearly forgotten a decade on, the first Pinotage wine was bottled in 1941. A bulk-wine grape during the apartheid era, focused efforts now match specific vine clones with particular sites, dramatically improving results. From humble beginnings, Pinotage has become SA's signature red.
About the Wine: Pouring a pale-to-medium purple, aromas of eucalyptus, allspice, and dark fruits present from the glass. In the mouth, refreshing notes of cocoa, minerals, and firm black cherries highlight the medium-bodied palate. The finish is smooth, pleasant, and uncomplicated. Decanting two hours allows aromas and flavours to open, softening appreciably.
About Pairing: Game meats, lamb stew, spicy Cajun, grilled eggplant, SA potjies.
About Sustainability: Organic and Vegan designation pending. WWF-SA Conservation Champion. Fair-Trade-in-Tourism status. Wine Industry Ethical Trade designation.
About Social Responsibility: Establishing its 'Growing For Good' initiatives, Spier Wine Farm sets the gold standard for giving back. The impressive array of community involvement includes programs for; local artist development, youth career training, family trauma treatment, resource conservation, and the 'Pack for a Purpose' visitor program.
About Price: C$24
About Alcohol Level: 14.5% abv