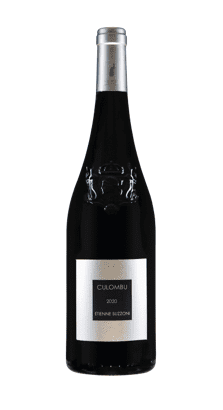 by Nik Rasula
About Wine features wines not typically on one's shopping radar; unique wines with a story – of people, place, or style. It tells of artisans making reasonably priced wines (under C$50 retail) while demonstrating careful Earth consideration.
2020 Etienne Suzzoni, Culombu Rouge, Calvi – Corsica, France
About Price: $29
About Corsica: A mountainous island in the Mediterranean, Corsica sits just north of Sardinia and due east of Tuscany, Italy. Part of Italy for centuries, Corsica was ceded to France in The Treaty of Versailles of 1768. Its citizens, however, maintain close cultural ties to the land of La Dolce Vita.
About Distinctiveness: The chestnut tree has helped shape Corsican cultural identity. The island staple, it is used in the making of flour, as a feed for livestock, in food treatments, and much more. The Corsican practice of free-range grazing in chestnut undergrowth (called maquis), is recognized as a farming best-practice and is credited for contributing distinct nuances in the finished products. Corsican cheese Brocciu, and cured meats Prizutti and Coppa are produced in limited quantities and desired the world over.
About Terroir: Located between the Bay of Calvi and Monte Grossu, the 27 Culombu vineyards lie in silica-rich slopes of granite. Situated between 50 and 150 metres, refreshing ocean and mountain breezes keep vines healthy and aid in flavour development. The hot/dry Mediterranean climate best suits red grape varietals and enables fuller bodied, higher alcohol wines.
About the Winery: Situated near Lumio in northwest Corsica, Clos Culombu is owned by the fourth generation of the Suzzoni family. Recently celebrating their 40th vintage, the Suzzonis maintain a healthy mixed operation covering 106 hectares (64 vines, 12 olives, 30 grazing meadows/oaks). Following the principles of complantation (combining, rather than separating varietals in the field), they grow 19 different grape varieties including 10 little-known domestic kinds.
About the Blend: A red wine consisting of 60% Sciaccarellu ('shack-a-rello'), 20% Niellucciu ('neel-oo-cho'), 10% Minustellu ('me-noos-tell-you), 10% Syrah.
About the Wine: Pouring a medium ruby, notes of violets, maquis, and blackberries entice. The medium-bodied palate offers refreshing flavours of ripe red plums and dark cherries. The finish offers fresh and lasting hints of cigar tobacco.
Decant one hour to allow the wine to open fully.
About Pairing: Brocciu cheese, prizutti, seafood risotto, cassoulet, gnocchi.
About Sustainability: Vegan. Certified Organic by Ecocert®.
About Alcohol Level: 14.5%
About Availability: Check liquorconnect.com
CSPC # 852353