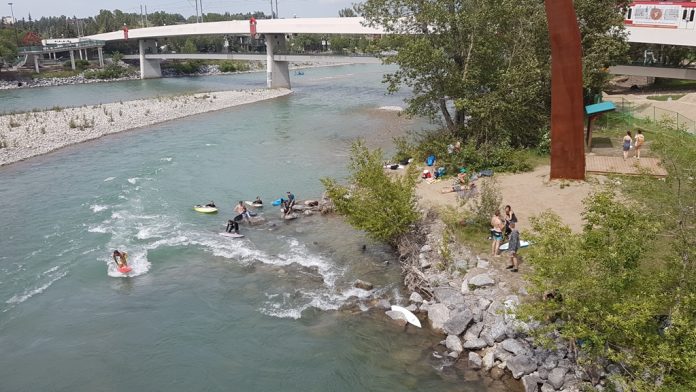 Alberta River Surfing and Surf Anywhere collaborated to build the world-famous Mountain Wave in Kananaskis. Now they've set their sights on creating river surfing in the heart of downtown Calgary. Their plans are detailed on their webpage https://albertariversurfing.com/surfyyc which includes the following information.
"Calgary can have excellent surfing waves and an urban beach at 10th Street Bridge (Louise Bridge) in downtown Calgary. This combination of recreational waves and accessible beach will result in substantial cultural, economic and environmental benefits that will last generations. The waves will have no impact on flood risk or on river levels during a flood.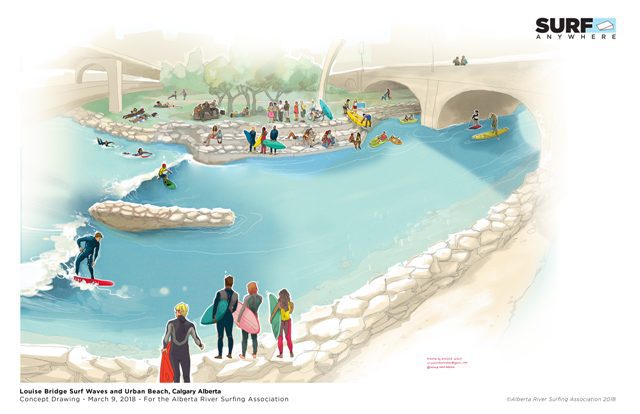 "The Alberta River Surfing Association is working with Calgary-based Surf Anywhere to develop this project. The project is possible, and we are in the stakeholder outreach, support building and initial design phase. In 2018, we completed a detailed Feasibility Study and Concept Design. The river conditions at the 10th Street Bridge (Louise Bridge) location allow for world class, adjustable waves all year except for during floods and heavy ice coverage. The wave making structures will collapse flat to the river bottom before and during flood season to completely avoid any effect on river levels during floods. The development will make this section of river safer and more enjoyable for all river users, will improve the river and riverbank ecosystems, will create a vibrant cultural anchor on the west end of downtown and will result in millions every year in additional economic activity."
Alberta River Surfing is organizing a multi-Community Association meeting this summer to explain the project, answer questions and get feedback from Eau Claire, Downtown West and Hillhurst Sunnyside, the three communities closest to the proposed Urban Beach.
For more information or to support the project contact Neil Egsgard of the Alberta River Surfing Association at [email protected].