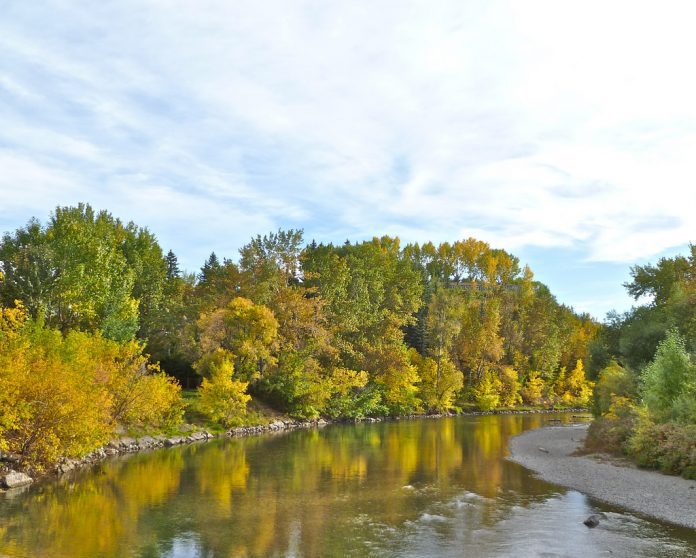 Have you ever seen people walking in the river who aren't fishing? Have you wondered what they were doing? They were most likely doing a redd count, which is a visual survey of fish spawning nests, otherwise known as "redds". These types of counts provide one indicator of the health of the river, because trout spawning declines when the river water is of poor quality with too much silt (also known as suspended solids), or when the water doesn't have enough oxygen. These counts also allow for the analysis of other impacts on fish habitat, such as the effects of the 2013 flood, which resulted in a dramatic decrease in Brown Trout redds in the Elbow River although redd numbers are slowly on the rise back to "normal" levels. The locations of preferred spawning sites in the river are also used to inform urban planning and development decisions, so as to avoid, where possible, installing bridges or storm water outlets for example, in locations that are ideal spawning habitat for trout and other fish in our rivers.
Our organization, Calgary River Valleys, is a small non-profit group that has organized the Brown Trout Redd Count in the Elbow River for 21 years between the Glenmore Dam and confluence with the Bow River. This year will be the 22nd year, but we are excited to announce it will also be the first year we are going to include this type of count on the Upper Elbow, above the Glenmore Reservoir. We are inviting residents of the communities upstream of the Glenmore Dam to participate in this event on the Upper Elbow, which is very much like a guided hike in the river. This event is a citizen science project, during which volunteers from their teens to retirees can, under the guidance of expert biologists, work with others to count and locate the Brown Trout spawning beds and to network with experts and scientists in biology, watershed planning, and other disciplines. It's also an amazing way to see the Elbow River landscape from a vantage point most people don't get the chance to experience.
Because Brown Trout spawn in the late fall, when the water temperature is cold enough, we always do these counts on a day in November. In past years the weather has ranged from a balmy 18 degrees to a cool 1 or 2 degrees, but we do tend to reschedule if the weather is extremely cold or visibility is extremely reduced due to fog or a blizzard. If you want to participate in this never before offered opportunity, we can provide chest waders and training, you just need to contact us via email at [email protected] or by phone at 403-268-4632. We can provide you with more details regarding the exact date, times, and other information. Spaces are limited, so don't delay!
For more information see www.calgaryrivervalleys.org and YouTube at https://tinyurl.com/y76nytuf