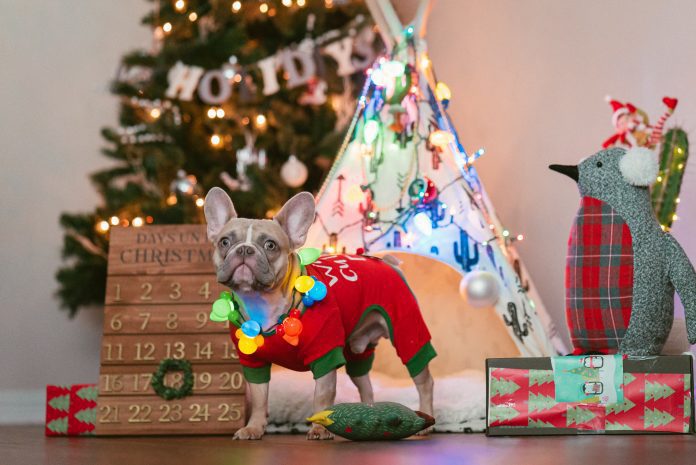 Do you have a picture in your head of the perfect glowing Christmas tree beside a blazing fire with flowers and candles throughout the room and the adorable blond (they're always blond!) puppy sitting in front of the tree, ribbon in his mouth and his present between his paws? Look at the picture and see the dangers our pets face at Christmas.
At Christmas, veterinarians see a huge increase in dogs suffering from what we call "Garbage Gut Gastritis". Gastro-intestinal upsets can range from mild to potentially life-threatening and can ruin Christmas… so practice restraint. Cooked turkey bones splinter and ham is far too rich for most pets to tolerate. Bowls of unsupervised treats left out on coffee tables beg to be eaten. Chocolates, nuts, candy canes, and shortbread…yum! If the goodies can be sniffed out in a wrapped box under the tree at floor level, even a well-behaved pet may believe…mine! Remember: chocolate, especially dark chocolate, is toxic to dogs.
Mistletoe, holly, lilies, and poinsettias all contain toxins to varying degrees to pets and children. The toxic element of poinsettias has been reduced by growers and now usually causes only mild enteritis. A dusting of powder from a lily flower on a cat's fur that he licks off can seriously damage kidneys.
Ribbon, twine, and tinsel fall under the veterinary category of "linear or string foreign object" if ingested by a pet. They are doubly dangerous because the sharp edges of ribbon and tinsel can cut the lining of the gut. The free ends move down the intestine and act like knives as the normal waves of motion pass through the guts. Diagnosis of the problem can be difficult because there is no complete blockage of the intestine and the ribbon does not show up on radiographs or x-rays. Decorations with wires in the middle and popcorn or candy on the outside go down the gullet easily, but don't pass through so well. What veterinarians have seen animals eat or swallow whole over the years is usually limited only by your imagination! Some veterinary journals have competitions inviting vets to share our most impressive x-rays of what our patients eat!
Flickering candles, tree ornaments, and all the electrical wires necessary to light our homes are as attractive to a pet as they are to a young child. All those bright ornaments can shatter and lacerate your pet's paws or mouth. Chewing a wire may cause a fire in your home. If you have a pet, stand back and look at your house with the same mindset to child proofing you would do with an infant or toddler.
With additional socializing inherent to the holiday season, make sure your pet is wearing identification in the event they slip out the door. If parties are not to your pet's taste, confinement in a quiet isolated part of the house may be preferable. Between the lights and the excitement, many of my epileptic patients have more seizures and many of my fragile elderly patients are more likely to become stressed and decompensate.
Finally, making a pet a part of your family should never be an impulse purchase. The whole problem of impulse adoptions has increased in the COVID world we live in. Many humane societies halt adoptions at Christmas time. You need the space, time, and financial resources to support a pet, and this needs to go beyond any restrictions to life being lifted in the future. A healthy pet can live well into its teen years. Don't buy or gift a pet on a whim caught up in the fever of giving or boredom with COVID-isolation. Be cautious of where you get your pet, COVID has allowed puppy mills to flourish.
Christmas morning, many furry children have their own gifts under the tree (mine do). Select your pet's gift like you would one for a toddler. Have a very Merry (healthy and safe) Christm