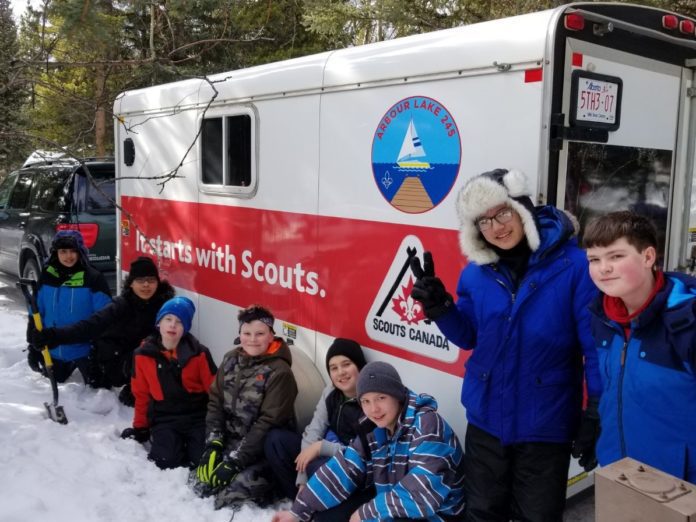 Wow! What an exciting spring the 245 Arbour Lake Scouts have had!
The Scouts (ages 11-14) did winter tent camping in March. They built a massive snow structure complete with sheets of ice from the river to use as windows. Congratulations to all our Scouts for becoming PADI scuba dive certified in May.
The Cubs (ages 8-10) also had a fun camp out at the Kamp Kiwanis' Watson Lodge. They hiked, had a huge bonfire on a -20C night and had lots of fun on the snow huts there. Another highlight in March was designing, building and racing their Kub Kars on the 245 track!
Our Beavers (ages 5-7) slept over in the Heritage Park Big Red Barn! They made old fashioned ice cream and spun twine to make ropes. Beavers decorated and raced their Beaver Buggies and also had a chance to go snowshoeing down in Bowness Park.
We are also very proud to announce the addition of the Arbour Lake 245 Scout Trailer! Through fundraising over the years, 245 can now enjoy the benefits of having the trailer as a resource. Special thanks to The Arbour Lake Residents Association for providing storage for the trailer. Further appreciation goes out to Ynot Digital for the amazing decaling work and to Mark at Crafted with Attitude for donating walking sticks to our Linking Camp.
And lastly, the amazing opportunities for the youth of Arbour Lake could not happen without the generous donations of refundables during our Fundraising Bottle Drives. Thank you! Our next bottle drive is September 21, 2019.
To join the adventure, registration starts May 15 by logging on to Scouts.ca