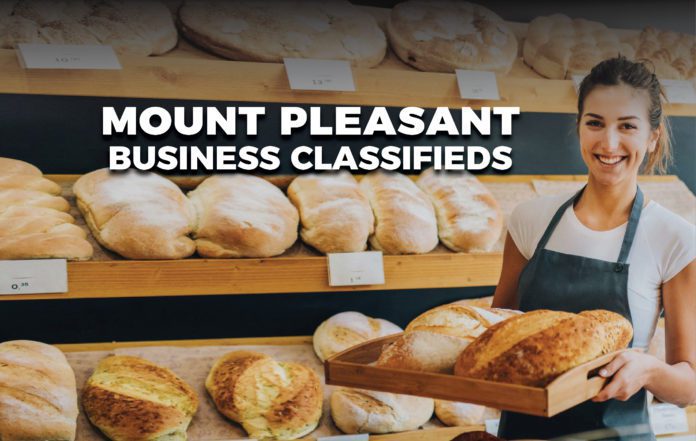 OFFICIAL PLUMBING & HEATING: Small company, low overhead, excellent warranties, and great rates. Specializing in residential service and installs. Services include furnace service and replacement, hot water tank service and replacement, leaks, clogs, gas fitting, and more. Licensed and insured. Why wait? Call today and get it fixed today! Available 24/7, we accept debit/VISA/MasterCard. Call 403-837-4023 or email [email protected]; www.official-plumbing-heating.ca.
MOUNT PLEASANT MORTGAGE BROKER: Your mortgage may be costing you thousands more than you need to pay! As a local mortgage professional, I have helped your neighbours navigate their purchase, refinance, and renewal options. Call Anita at 403-771-8771 | [email protected] | Licensed by Verico Avenue Financial Real Estate Solutions.
BETT SECURITY: BETT Security provides quality, licensed security guard services at competitive rates in Calgary and surrounding areas. Services include: Mount Pleasant Neighborhood watch, Mobile patrol, On site security and Private investigators. Call: 587-892-2388; Email: [email protected]; Visit: bettsecurity.com
MOUNT PLEASANT CUSTOM CLOSETS: We are a family Business based in Calgary. Our products are manufactured right here in Canada, supporting our local economy and giving you, the customer, prices that will keep your money in your wallet. A custom closet system can maximize your space and make every inch more functional. Our custom-made closets instantly brighten up your day and are as beautiful as they are functional. Mount Pleasant Custom Closets have been happily organizing closets and other storage areas since 2003. For a Free in home Consultation call us at 403 251 6400.
YOUR MOUNT PLEASANT HOME SOLD GUARANTEED: Contact Len T. Wong at 403-606-8888 if you want to look at Mount Pleasant homes for sale, or are thinking of selling your Mount Pleasant home, Mount Pleasant townhouse, or Mount Pleasant condo. With over 30 years of real estate experience in Calgary, Len T. Wong is here to assist. https://calgaryluxuryhomesearch.com
GREAT CANADIAN HELI-SKIING PACKAGES AVAILABLE: Book a worldclass holiday in your backyard. Located in one of Canada's snowiest places, your private heli-skiing lodge is only a 4 hour drive from Mount Pleasant. Small groups, unlimited vertical is how heli-skiing was meant to be. Experience this once in a lifetime opportunity this winter. Contact us at 1-866-424-4354 for your #BestDayEver.
JEFFREY ELECTRIC: Friendly professional electrical service for your next residential project, large or small. City Qualified Trade, Master Electrician, insured, licensed, certified, bonded. Very competitive rates for quality electrical work. Service panel upgrades from 60 amp to 200 amp. Sub-panels, aluminum rewiring, custom kitchens and basements. Free estimates. www.cejelectric.com or call Clayton at 403-970-5441.
MOUNT PLEASANT LANDSCAPER: Over twenty years experience of landscaping construction in Mount Pleasant. Call Cam at 403 371 3814 for a free quote.
NEIGHBOURHOOD CONFLICT? Community Mediation Calgary Society (CMCS) is a no-cost mediation and conflict coaching service that can help you resolve problems and restore peace! We help neighbours be neighbours again! www.communitymediation.ca, 403-269-2707.
PROMOTE YOUR BUSINESS IN MOUNT PLEASANT: We create highly-targeted, cost-effective advertising campaigns in our large portfolio of monthly community newsletter magazines that have extremely high readership. We also create and implement highly-effective geo-fenced digital advertising campaigns. For a free consult, call Great News Media at 403-720-0762.
TLC CLEANING: Over 20 years' experience in the business! TLC Cleaning is a small and personalized house cleaning company with an eye for detail. Licensed, insured, bonded, and WCB covered for your peace of mind. Excellent rates and references; environmentally-friendly options too. Everyone needs a little TLC! Free estimates; please call Carol at 403-614-8522 or email [email protected].
To have your business profiled in the monthly Mount Pleasant Business Classifieds, please contact Great News Media at 403-720-0762, or visit www.greatnewsmedia.ca – Leaders in Community Focused Marketing.
Return to the Mount Pleasant Community News home page for the latest Mount Pleasant community updates.
Visit the Mount Pleasant Real Estate Listings home page to see the latest Mount Pleasant homes for sale.
This Mount Pleasant Business Classified list includes the following types of local businesses and services: | Cleaning Service | Closet's & Garage's | Electrician | Landscaping | Mediation | Plumbing | Publishing | Realtor | Recreation