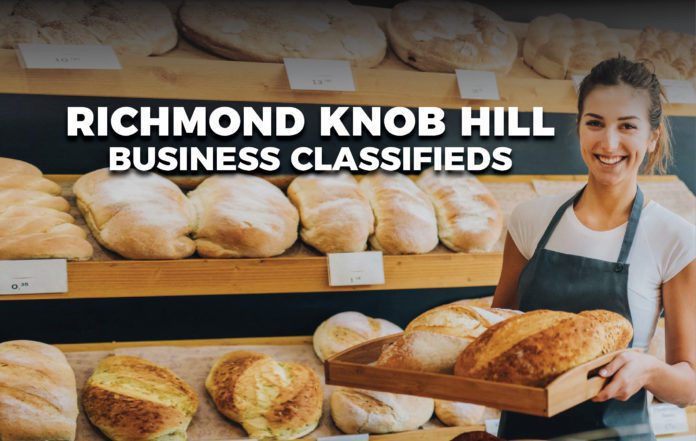 NEPTUNE PLUMBING & HEATING LTD: Qualified journeymen plumbers/gasfitters, very experienced in Richmond and Knob Hill. Upfront pricing. Reliable, conscientious, fully guaranteed. Mon – Fri 8:00 am – 5:00 pm. 24-hour emergency service, call 403-255-7938. "Showering you with great service."
RICHMOND | KNOB HILL MORTGAGE BROKER: SAVE A BUNCH OF CASH! As a local mortgage professional, I have helped your neighbors navigate their purchase, refinance, and renewal options. If you are looking expert advice, excellent rates, many options, and better mortgages, Call Anita at 403-771-8771 | [email protected] | Licensed by Verico Avenue Financial Real Estate Solutions.
OFFICIAL PLUMBING & HEATING: Small company, low overhead, excellent warranties, and great rates. Specializing in residential service and installs. Services include furnace service and replacement, hot water tank service and replacement, leaks, clogs, gas fitting, and more. Licensed and insured. Why wait? Call today and get it fixed today! Available 24/7, we accept debit/VISA/MasterCard. Call 403-837-4023 or email [email protected]; www.official-plumbing-heating.ca.
ACTIVE SPORTS THERAPY: Looking for Richmond-Knob Hill Sports Chiropractic, Richmond-Knob Hill Active Release Therapy, Richmond-Knob Hill Physiotherapy, Richmond-Knob Hill IMS, or Richmond-Knob Hill Massage Therapy? Our unified team of expert practitioners have one common goal – to help you achieve a higher standard of health so you are able to do all the things in life that you love to do. Call us @ 403-278-1405 or visit activesportstherapy.ca to book a free consultation.
BETT SECURITY:: BETT Security provides quality, licensed security guard services at competitive rates in Calgary and surrounding areas. Services include: Neighborhood watch, mobile patrol, on site security, and private investigators. Call 587-892-2388; Email [email protected]; Visit bettsecurity.com.
RICHMOND-KNOB HILL CUSTOM CLOSETS: We are a family Business based in Calgary. Our products are manufactured right here in Canada, supporting our local economy and giving you, the customer, prices that will keep your money in your wallet. A custom closet system can maximize your space and make every inch more functional. Our custom-made closets instantly brighten up your day and are as beautiful as they are functional. Richmond-Knob Hill Custom Closets have been happily organizing closets and other storage areas since 2003. For a Free in home Consultation call us at 403 251 6400.
YOUR RICHMOND-KNOB HILL HOME SOLD GUARANTEED: If you are looking for a realtor in Richmond-Knob Hill contact Len T. Wong at 403-606-8888. With over 33 years of real estate experience in Calgary, Len T. Wong is here to assist with buying and selling homes in Richmond-Knob Hill. https://calgaryluxuryhomesearch.com
HERITAGE POINTE GOLF COURSE DREAM HOME FOR SALE: See this executive custom-built & recently renovated bungalow with fully developed walk up basement backs onto Heritage Pointe Signature 9th Hole with views of the large pond. Visit https://calgaryluxuryhomesearch.com/, or call Len @ 403-287-4888 for more information.
LANDSCAPING, WINDOW CLEANING, AND YARD CARE: Weekly yard care starting at $36. Mulch, rock, and sod installation. Window and gutter cleaning starting at $99; interior/exterior/screens. Garden beds, stone patios, walkways, raised beds, rock walls, deck and fence builds, small concrete jobs, and pressure washing. A+ Member of BBB, 4.1 Google stars. Licensed. Insured. WCB. 403-265-4769 | YardBustersLandscaping.com.
LOCAL HANDYMAN: Hire-a-husband types of jobs done. Specializing in painting, drywall installation and repair, framing and finish carpentry, damaged doors and frames, fences and decks, concrete repair, laminate flooring, ceramic tiling, minor plumbing and electrical, etc. Call Robert Ziffle: 403-606-8876 and/or [email protected].
NEIGHBOURHOOD CONFLICT? Community Mediation Calgary Society (CMCS) is a no-cost mediation and conflict coaching service that can help you resolve problems and restore peace! We help neighbours be neighbours again! www.communitymediation.ca, 403-269-2707.
PROMOTE YOUR BUSINESS IN RICHMOND-KNOB HILL: We create highly-targeted, cost-effective advertising campaigns in our large portfolio of monthly community newsletter magazines that have extremely high readership. We also create and implement highly-effective geo-fenced digital advertising campaigns. For a free consult, call Great News Media at 403-720-0762.
RICHMOND-KNOB HILL CONTRACTOR FOR HIRE: Over 20 years' experience completing renovations in and around Richmond-Knob Hill. Lefroy Construction is happy to quote, organize and execute any renovation or new construction project. Call 403-616-0880 to discuss your project. www.lefroyconstruction.com.
RICHMOND-KNOB HILL LANDSCAPER: Jackson & Jackson Landscaping have been serving Calgary since 1979 and we are well qualified to design and implement the landscaping needs of your home. We are an established business in Richmond-Knob Hill with a reputation for providing outstanding quality landscaping and customer service. Call Cam at 403 371 3814 for a free consultation and quote.
RUSSELL'S LAWN SERVICE: Since 2000, locally owned, family operated, insured, WCB clearance and BBB accredited. Providing quality, reliable service, free estimates, and 15% senior discount. Specializing in mowing, power-raking, aerating, fertilizing, tree/hedge trimming, and landscaping/xeriscaping. Lawn service bookings are limited, reserve now. Visit us at: www.russellslawn.com or call 403-686-LAWN (5296).
THE GUTTER DOCTOR! Eavestrough cleaning, repairs, and installation. Fascia, soffit, cladding, roofs, siding, heat cables. For over 18 years and 40,000 projects we have done the job right – and it's always guaranteed! Fully Insured, Licensed, WCB coverage. A+ rated BBB member. Top award winner. www.gutterdoctor.ca, 403-714-0711.
To have your business profiled in the monthly Richmond-Knob Hill Business Classifieds, please contact Great News Media at 403-720-0762, or visit www.greatnewsmedia.ca – Leaders in Community Focused Marketing.
Return to the Richmond-Knob Hill Community News home page for the latest Richmond-Knob Hill community updates.
Visit the Richmond-Knob Hill Real Estate Listings home page to see the latest Richmond-Knob Hill homes for sale.
This Richmond-Knob Hill Business Classified list includes the following types of local businesses and services: Chiropractor | Closet's & Garage's | Construction | Contractor | Landscaping | Mediation | Plumbing | Plumbing & Heating | Publishing | Realtor | Security