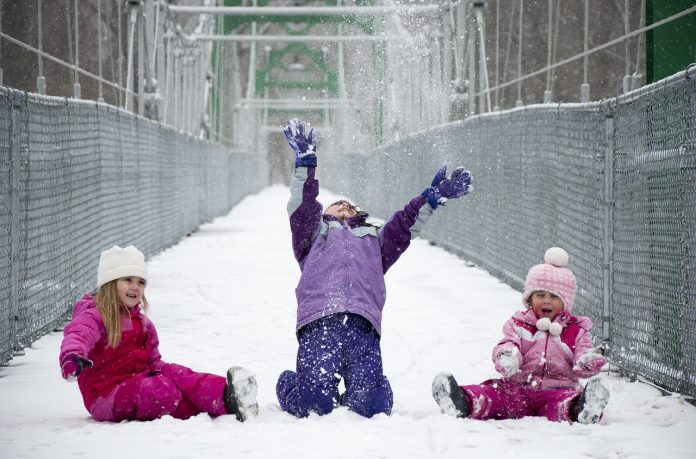 Winter outdoor play is so much fun! All ages can get into the groove of doing some physical activity everyday! Just remember to dress for the weather (hat, mitts, boots, snow pants, jacket, scarf). Watch the forecast and even if the weather is extremely cold, a little fresh air (10 minutes) can help keep us happy and healthy. It also fights off the winter blues!
Different types of free activities include:
make a snowman
make snow angels in the snow
build a snow fort
have a snowball fight (safety first of course)
go on a walk in the neighbourhood
sleigh rides
snow painting (food colouring and water in a squeeze bottle and make designs on the snow)
use those summer toys (shovels and buckets) and make snow castles
blow ice bubbles (use regular bubbles and watch them freeze)
sledding/tobogganing (remember to use proper headgear for this activity)
be a snow detective (chill dark coloured fabric in the freezer for 10 minutes and then bring it outdoors to catch snowflakes. The cold fabric will give your kids more time to examine their specimens before they melt)
make bird feeders and hang them outside
animal track discovery (look in the backyard at the various tracks and try to figure out what animal made them)
winter photography (go for a walk and take pictures of the interesting parts of the winter)
make a snow-obstacle course with tunnels, steps, and jumps
Ideas that may take you away on a trip:
skiing and snowboarding
winter hiking
winter camping
snowshoeing
ice fishing
cross country skiing
attend a dog sled race
Enjoy the crispness and freshness of the winter season!