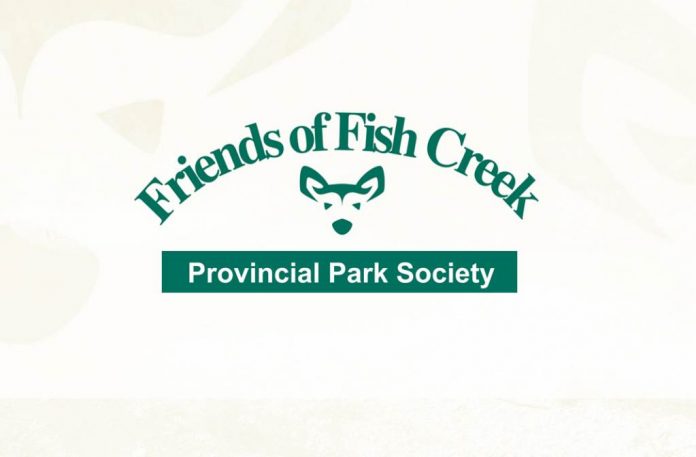 Text to Give to Support our Stewardship Truck
In February 2020, In-Line Pigging Solutions generously donated an amazing work truck to the Friends of Fish Creek – a Dodge Ram 5500 with a crew cab, flatbed, and crane! You may have seen the truck cruising around the park last year. Many of our Watershed Stewardship Programs, like Riparian Restoration and Tree Wrapping, require the use of a vehicle to haul equipment and supplies to and from work sites. It is also essential that we water newly planted trees and shrubs at restoration sites in the park, so we needed a truck that could haul a full water tank. While the truck is parked for the winter, it will soon be out in the park for the busy spring and summer season. There are ongoing vehicle expenses such as fuel, insurance, and maintenance, and we are inviting community members to help support the stewardship truck this month. Any contribution would be sincerely appreciated! You can donate by visiting https://friendsoffishcreek.org/programs/truck, or simply text WHEELS to 587-417-6606. If you have a local business and are interested in having your logo featured on the truck, please contact the Friends of Fish Creek.
The Fish Creek Community Terrace – Summer 2021
Every brick tells a story! Share your story with the Fish Creek Community. You may have seen the personalized bricks installed in front of the Cookhouse at the Bow Valley Ranch, commemorating milestones like weddings, anniversaries, new family members, or memorials for those who have passed on. If you did not get a chance to dedicate a brick along the pathway, or would like to dedicate another brick, now is the perfect opportunity to support the Friends of Fish Creek, share a little of your own story, or provide an amazing gift for a friend or family member. There are fewer than 60 spaces available along the terrace and registration will close June 1. For more information, please contact the Friends of Fish Creek at 403-238-3841, ext. 1 or visit https://friendsoffishcreek.org/brick.
The Fascinating World of Fungi with Lacey Roberts
Wednesday, April 21, 2021 7:00 to 8:00 pm
Presented by Lacy Roberts, CPAWS Intern and HBSc. Environmental Science.
Explore the fascinating world of fungi beneath our feet. Gain a valuable understanding of how these seemingly insignificant organisms have helped to shape our world since the beginning of time. Explore the interconnectivity between topics such as dinosaurs and the infinite galaxies all around us. Learn about edible and poisonous mushrooms, the medicinal properties and uses of fungi, and how innovation and technology have increased awareness about the conservation of our natural spaces. Free for Friends of Fish Creek Members and for youth 16 years of age and younger with a registered adult, $10 for non-members. For more information or to register, visit https://friendsoffishcreek.org/event/fungi.
Volunteer Opportunities in Fish Creek
The 2021 volunteering season is just around the corner, and we are looking for people to assist with various programs. Not only are there opportunities for our longstanding programs, such as Park Watch, Weed Whackers, and Riparian Monitoring Stewards, but a variety of new programs are kicking off this year! For more information and links to apply to volunteer, visit our Volunteering Basics page. We look forward to working with you to bring the Friends' 2021 programs to life in Fish Creek! For more information, please visit https://friendsoffishcreek.org/volunteering-basics.