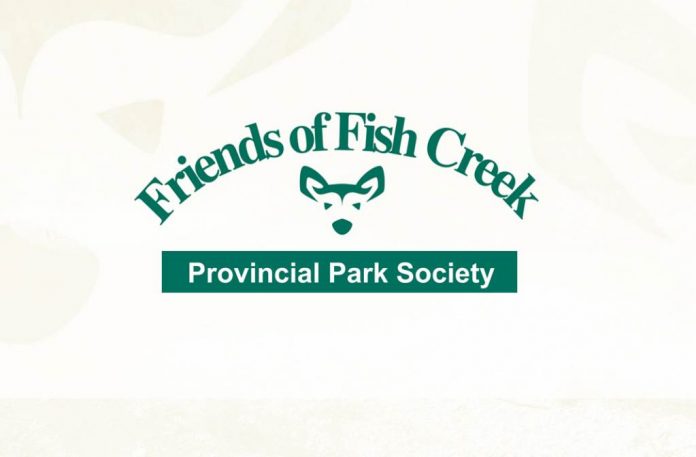 The Fish Creek Community Terrace
The Friends would like to express our thanks to everyone who dedicated a brick along the 25th Anniversary brick pathway in front of the Cookhouse. There are close to 300 bricks here, that are engraved with the names of community members and positive messages to park visitors. People have dedicated bricks to show their support for Fish Creek, and to commemorate milestones like weddings, anniversaries, new family members, or memorials for those who have passed on.
Now that all of the bricks are installed along the pathway, we have begun planning the next area – the Fish Creek Community Terrace. The terrace will be installed in front of the Cookhouse near the kiosk, and all who visit our office or pass by will see the bricks. Every brick tells a story, and we invite you to leave a lasting legacy in Fish Creek Provincial Park by dedicating a brick along the Fish Creek Community Terrace. If you have a local business, consider having a brick inscribed for your business, it's great advertising in a very busy area, and you will receive a tax receipt. Inscriptions can have 2 lines of text with 16 characters per line, and simple shapes like hearts and circles can be accomplished. Bricks are only $250, and you will receive a tax receipt for your contribution. For more information, contact the Friends or visit https://friendsoffishcreek.org/brick.
Now is the Best Time to Renew Your Commitment to Fish Creek!
It is because of our members, donors, volunteers, partners, and sponsors that we are able to deliver programs and events in and around Fish Creek Provincial Park. The Friends of Fish Creek invite you to renew your membership or sign up as a member to show your support for Fish Creek Provincial Park. Membership benefits include a discount on the popular Birding Course, admission to Fish Creek Speaker Series presentations, and a discount at select local businesses. The current membership year will run until December 31, 2021. Thank you to everyone who has renewed for the 2020-21 season. To renew your membership please visit https://friendsoffishcreek.org/membership.
The January Fish Creek Speaker Series
Urban Beavers – Building Pathways to Coexistence in Fish Creek Provincial Park
Thursday, January 21, 2021 7:00 to 8:00 pm, Online
Presented by Kirby England, P. Biol. Owner and Principal Consultant, You Betula Environmental Inc. and Holly Kinas, B.Sc., B.I.T. Conservation Analyst, Miistakis Institute
Last autumn the Friends launched the Beaver Coexistence project in Fish Creek Provincial, which involved educational tours, events, hands-on volunteer activities, public awareness activities, and the construction of specialized structures in the park. Did you know that beaver activity can decrease suspended sediments, filter out contaminants, recharge groundwater supplies, and create habitats for a myriad of species? In recognition of all the good beavers bring, land managers across the continent are turning to coexistence as a method of managing beaver activity on the landscape. Join Kirby England, Owner and Principal Consultant Biologist at You Betula Environmental, to learn about urban beaver coexistence tools and strategies, and to explore real-life examples of successful coexistence. During summer/fall of 2020, researchers at the Miistakis Institute piloted a new tree protection technique as part of their Putting Beavers to Work for Watershed Resiliency and Restoration program. This innovative and humane solution for managing beaver activity involved applying a textural repellent to discourage these animals from chewing and felling trees. Fish Creek Speaker Series programs are sponsored by Servus Credit Union. Learn more at https://friendsoffishcreek.org/event/beavers-6/.