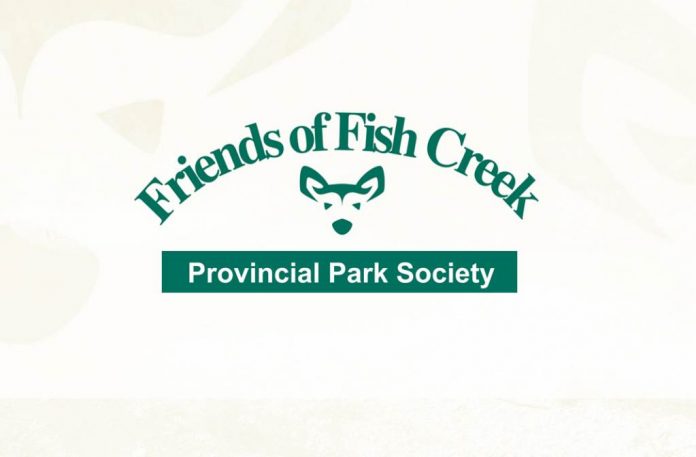 Living and Working with Beavers in Fish Creek!
Thanks to the financial support of Alberta Environment and Parks' Watershed Resiliency and Restoration Program, the Friends spearheaded our first ever Beaver Coexistence Project in 2020, with the aim of mitigating the negative impacts of beaver activity and raising awareness about the positive effects of beaver activity on the environment. The Fish Creek Beaver Coexistence project also featured 11 tours for public, partners, and land managers from other jurisdictions, three beaver-focused Fish Creek Speaker Series presentations, and seven pop-up outreach stations, engaging over 1,400 individuals so far. The work will continue in 2021, with plans to host another event, similar to the 2020 Living with Beavers event, more pop-up outreach, and a video showcasing the project. A huge thank you to all who are helping to transform the societal narrative around beavers into one of coexistence: Friends of Fish Creek Volunteers and project partners such as AEP, Miistakis Institute, Cows and Fish, Canadian Conservation Corps, You Betula Environmental, Humane Solutions, Ruby Eaglechild, and the City of Calgary. We are excited to continue this work and hope to see you at a tour or outreach table in the park this year! For more information about the Beaver Coexistence project in Fish Creek stay tuned to https://friendsoffishcreek.org/beavers.
Volunteer Opportunities in Fish Creek Provincial Park
The 2021 volunteer season is just around the corner, and we are looking for people to assist with a variety of programs. Opportunities are available for longstanding programs like Park Watch, Weed Whackers, and Riparian Monitoring Stewards, as well as for new programs kicking off this year!
Beaver Coexistence Flow Control Device Monitoring and Maintenance Program: Volunteers in this program monitor these installations to ensure they are diverting water as intended and correct any issues that arise.
ReWilding Site Monitors: Monitor restoration sites and take notes using the ArcGIS digital app. Maintenance tasks could include adding additional tree cages, pruning, weeding, and more!
Weed Watchers: Invasive weeds are pervasive throughout Fish Creek, and we need help to locate and remove them!
Fish Creek Ambassadors: Fish Creek Ambassadors will be volunteering in the Bow Valley Ranch Visitor Centre providing information about Fish Creek Provincial Park, and the Friend's programs, as well as gathering information and data about how people use the Visitor Centre.
Stewardship Truck Crew: With the addition of our stewardship truck, we will need helping hands to ensure our ReWilding sites are maintained, whether it be watering or fence maintenance.
For more information about volunteering visit https://friendsoffishcreek.org/volunteering-basics.
The Fish Creek Community Terrace
Every brick tells a story, and we invite you to leave a lasting legacy in Fish Creek Provincial Park by dedicating a brick along the Fish Creek Community Terrace. People have dedicated bricks to show their support for this park and to commemorate milestones like weddings, anniversaries, new family members, or memorials for those who have passed on. The Fish Creek Community terrace will be installed in front of the Cookhouse near the kiosk. Inscriptions can have two lines of text with 16 characters per line, and simple shapes like hearts and circles can be accomplished. Bricks are only $250, and you will receive a tax receipt for your contribution. If you have a local business, consider having a brick inscribed for your business – it's great advertising in a very busy area! For more information, contact the Friends or visit https://friendsoffishcreek.org/brick.