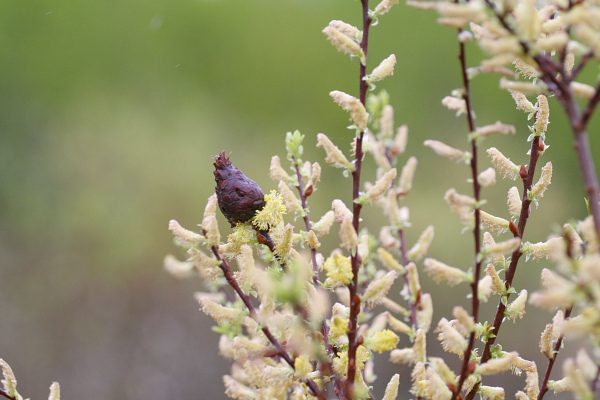 by Anne Burke
There was a talk on the native plants of Nose Hill to celebrate the opening of a new mural with a tour of the artwork. The site is a heavily used pedestrian tunnel near the 64th Ave. NW entrance to Nose Hill Park. The project was limited to the retaining walls at each end of the underpass, which runs under 14th Street, so its interior was not part of the project. The tunnel connects Nose Hill with a series of parks in North Haven and Thorncliffe, as well as to several NW neighbourhoods.
The purpose of the project is to illuminate aspects of Nose Hill's importance to local Indigenous people and highlight the area's long history of use. The glacial erratic known as the "Buffalo Rubbing Stone" references the history of the Iinnii (buffalo) on Nose Hill. The artwork, as a landmark for the surrounding communities and visitors to Nose Hill Park, will create more awareness of the important Indigenous history of the site.
Although this was a community-initiated project, the site is owned and managed by the City of Calgary's Roads Department, as well as being located adjacent to areas managed by Calgary Parks. Therefore, the Public Art was first approved by the Roads Department, the Parks Department, and Calgary Arts Development.
Engagement was an important consideration for this project. Prior to installation, an artist must be available for some form of meaningful interaction with the public. This could be an introductory meeting with the surrounding community associations, a prepared statement about the work, or other form of engagement.