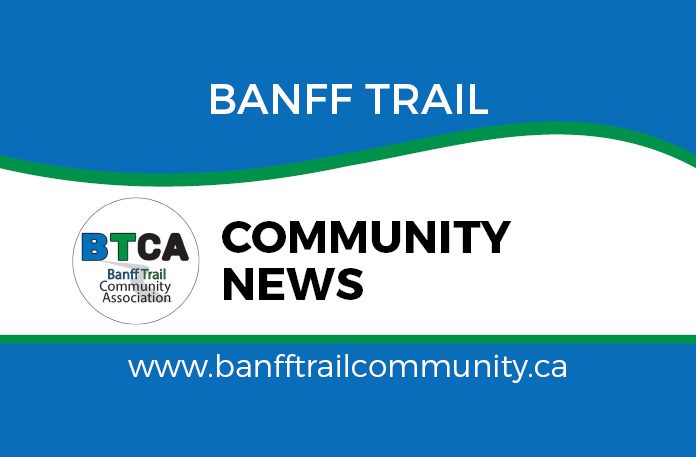 With spring just around the corner, the BTCA will be opening their registration for their soccer program. The BTCA have worked hard to ensure that registration costs stay affordable to benefit all families, regardless of income. The Banff Trail Soccer Program provides a community based, volunteer run soccer program to give kids an opportunity to participate in fitness, get some fresh air, build teamwork, and create new friendships! More details in this issue.
Have any kids in your household? If you have a kid between the ages of 12 and 17 who is looking to get involved while having fun, we have an opportunity for you! The Banff Trail Youth Council meets once a month and has already done remarkable things for our community. Our Youth Leader, Kimberly Jordan, is looking forward to hearing from you. Email [email protected] Many thanks for all your efforts and contributions so far!
The Banff Trail Youth Council is now hosting their very own Teen Board Game Night. Over the last two years, the BTCA has done much to have a very extensive collection of board games. Now we can finally enjoy them! If you are a teen or 'tween, please join us for our very first Teen Board Game Night on Friday, March 4. What a great way to get out, have fun, and make some new friends! More details in this issue.
With our new extensive collection of board games, we will also be hosting our very first Family Board Games Night. Please join us with your family for this fun-filled event and maybe challenge other families as well. Our first Family Board Games Night will take place at the Banff Trail Community Hall on Friday, March 11. More details in this issue.
We have a Banff Trail Community Pantry! Due to colder temperatures, Banff Trail Youth Council has decided to take in donations, monetary contributions, and create their own food hampers for distribution. Food items are always needed and due to COVID-19, some families have been struggling. In January, the Banff Trail Youth Council published a wonderful article in the Banff Trail Howler asking the community to contact them if you have any donations you want to be picked up. The Banff Trail Youth Council wants to remind us that, "If each of our community centre members contributes $1 a month, $12 a year, we could potentially reduce food insecurity in our neighbourhood significantly". Please email [email protected] for donations or to arrange food donation pick-ups. Be a party to the pantry!
Looking for some good, wholesome fun? On Friday, March 25, we will be hosting our very first ever Ladies Poker Night. Real money will not be used as this is just for fun. You do not need to know how to play either as this is also a learning opportunity. I will definitely be there to learn how to play and maybe learn how to have a 'poker face'. See you ladies there! What a great way to be social and have fun! More details in this issue.
As the weather warms, the Banff Trail Community Gardens will also be available for booking. As the prices for groceries seem to be constantly rising, this allows for the opportunity to grow your own delicious ingredients and to meet other fellow gardeners. More details in this issue.
Your Banff Trail Membership is absolutely free! Since the 2018 AGM, the Banff Trail Community Association has voted to set memberships to zero dollars in order to include everyone. Please provide your name, contact information, and let us know if you live within the Banff Trail neighbourhood boundaries to [email protected] Whether you are new or renewing with us for another year, welcome and thank you.
Would you like to see a cycle track in your neighbourhood? More details are in this issue about the Banff Trail Cycle Track.
Did you know that the trans and gender diverse are the most underrepresented group in Canada? As a result, many individuals are faced with negativity, bullying, stigma, barriers, discrimination, and sometimes violence. But we, as a community, can make a difference. The Skipping Stone Foundation focuses on support and equality offering programs that can make a difference. See how you can also help. Details in this issue.
Want to get your Banff Trail Howler before it comes in the mail? Check out https://mycalgary.com/magazines/banff_trail/.
If you have anything you're interested in, don't hesitate to get involved. Our meetings are now on the second Wednesday of the month from 7:00 to 9:00 pm. Feel free to call 403-282-2234 or email [email protected] You are more than welcome to attend! The Banff Trail Community Association (BTCA) consists of a pretty awesome group of neighbours who are here to make Banff Trail a great place to be.
Your editor for the Banff Trail Howler,
Ravenmoon Spicer
Acknowledging and Honouring Indigenous cultures: Calgary (and Banff Trail) is situated at Mohkinsstsis (in Blackfoot); Wîchîspa (in Stoney); or Guts'ists'i (in Tsuut'ina) in Treaty 7 Territory, Home of the Blackfoot Nations, Stoney-Nakoda Nations, Tsuut'ina Nation, and Home of the Métis Nation of Alberta, Region 3. We pay our respect to the First Nation and Métis ancestors of this place and reaffirm our relationship with one another; in doing so, we are actively participating in reconciliation as we navigate our time in this course, learning and supporting each other.