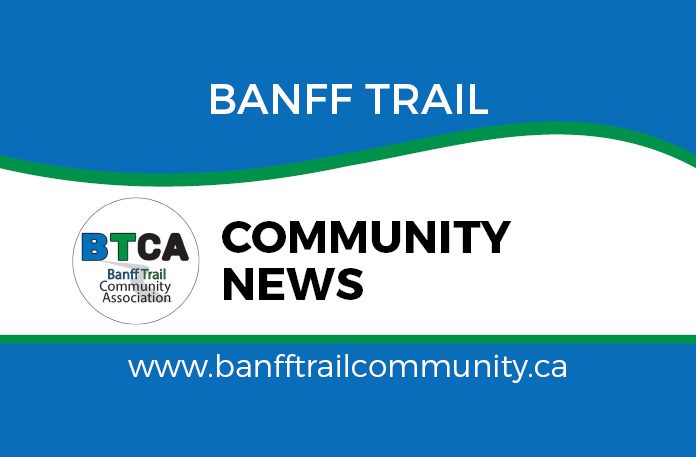 Due to Mother's Day held in May, there had to be a day that included a celebration honouring fathers, to recognize fatherhood, give tribute to paternal bonds, and to remember the societal contributions dedicated by fathers. The first Father's Day was proposed in 1909 by Sonora Dodd who very much admired her father who was a Civil War veteran and a single father who raised his six children alone. Sonora's mother had died in childbirth delivering the sixth child. The first Father's Day was celebrated a year after its proposal, in Spokane, Washington at the Spokane YMCA in 1910. Now it is celebrated in almost every home in countries around the world. Happy Father's Day! And thank you YMCA!
Please check out the Banff Trail Howler Artist Exhibit in this issue. This is the first time we are featuring our first artist under 18 years old. Please check out Tala Sleiman's work. Although only 12 years old, her talent and artistic eye are amazing.
In March, the BTCA applied for two grants. The first one was for City of Calgary Inspiring Neighbour Grant (under the Beautification and Space category).  This is to enhance our gardens and outdoor space around our community hall. The second grant is for the Energizing Spaces Fund through the Federation of Calgary Communities. If granted, this will be used to replace the fridge in the bar area as well as the fridge and dishwasher in the basement kitchen with more energy efficient appliances. This is 100% reimbursed. Hopefully, we will be able to see a lovely garden and these improvements to our hall very soon! Thank you, BTCA!
Your Banff Trail Membership is absolutely free! Back in 2018, the Banff Trail Community Association voted to set memberships to zero dollars at the AGM.  In order to include everyone, this has free-membership program has continued. Please provide your name, contact information, and let us know if you live within the Banff Trail neighbourhood boundaries to [email protected] Whether you are new or renewing with us for another year, welcome and thank you.
Is there a kid in your home? Are they looking for a volunteer opportunity that delivers fun, parties and friendship? The Banff Trail Youth Council is right in your neighbourhood. We are very proud to have Kim Jordan as our Youth Leader. Join our youth group! Email [email protected] for more information.
Would you like to see a cycle track in your neighbourhood? More details on the Banff Trail Cycle Track are in this issue.
If you have anything you're interested in, don't hesitate to get involved. Our meetings are always on the first Wednesday of the month from 7:00 to 9:00 pm. Feel free to call 403-282-2234 or email [email protected] You are more than welcome to attend! The Banff Trail Community Association (BTCA) consists of a pretty awesome group of neighbours who are here to make Banff Trail a great place to be.
Your editor for the Banff Trail Howler,
Ravenmoon Spicer
Honouring Indigenous cultures: Calgary (and Banff Trail) is situated at Mohkinsstsis (in Blackfoot); Wîchîspa (in Stoney); or Guts'ists'i (in Tsuut'ina) in Treaty 7 territory, home of the Blackfoot Nations, Stoney-Nakoda Nations, Tsuut'ina Nation, and the Métis Nation of Alberta, Region 3.